Fördelar med att handla på DJI Stockholm
✔ Sveriges snabbaste och bästa support på drönare.
✔ Officiell DJI butik.
✔ Full garanti.
✔ Lagar om olyckan är framme.
✔ Alltid först i Sverige med nya modeller.
✔ Snabb leverans.

DJI FPV Combo
Butik:

På lager

Webblager:

284
Se till att beställ din nya drönare redan idag!
Uppslukande flygupplevelse
4K / 60 fps Super-Wide 150 ° FOV
10 km HD-videoöverföring med låg latens
Helt nytt S-läge
Nödbroms och hover


Max videoupplösning
4K 60fps

Sensor
1/2.3" CMOS Sensor

Stillbildsupplösning
12 MP
Produktinformation
Material
Översikt
Flyga genom himlen på sätt som verkar omöjliga. Vi förlorade aldrig vår passion för flygning, och med DJI FPV har dessa passioner förvandlat fantasin till verklighet. Med den här uppslukande och intuitiva antennplattformen, gör dig redo att gå ut i det bortom.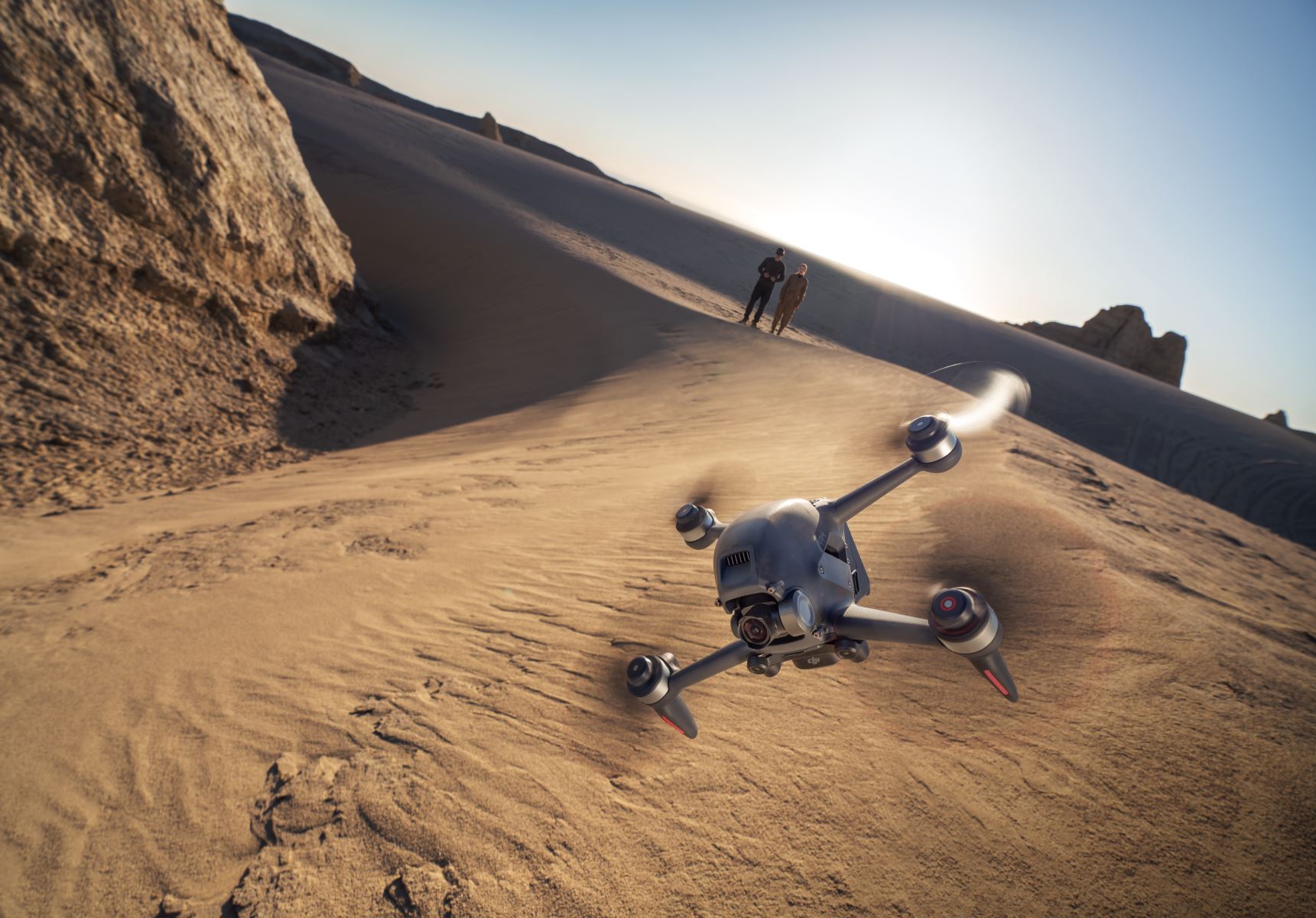 FPV har aldrig sett så bra ut
DJI FPV-flygplanet är snyggt och aerodynamiskt och levererar kraftfull framdrivning, batteritid och vindmotstånd, vilket gör detta system lika kapabelt som det är visuellt fantastiskt.
DJI FPV sticker ut på fler sätt än ett. Sportiga LED-lampor och flygplansarmsljus med anpassningsbar färg, DJI FPV gör att piloter kan göra sina flygplan så unika som de är.
Nästa nivå immersion. Oöverträffad kontroll.
Känn spänningen med uppslukande flyg som tillhandahålls av DJI FPV Goggles V2 [1] och DJI FPVs superbreda 150 ° FOV. [2] HD-videoöverföring med upp till 120 fps ger dig en extremt jämn, realtidsvy av ditt flyg.
Oavsett om du är en erfaren FPV-pilot eller en nybörjare, erbjuder DJI FPV tre intuitiva flyglägen som låter vem som helst flyga tryggt från första dagen.
S-läge
Få enkelt det dynamiska utseendet på FPV-filmer i S-läge. Detta hybridflygläge kombinerar friheten att flyga manuellt med de förenklade kontrollerna från tidigare DJI-drönare.
N-läge
Perfekt för nya användare, N-läget erbjuder uppslukande flygning med traditionella drönare flygkontroller tillsammans med DJI säkerhetsfunktioner som hinderavkänning. [3]
M-läge
Flyg i M-läge för fullständig, obegränsad kontroll och fullständig FPV-flygupplevelse. Anpassa parametrar och njut av flygning och filmer till skillnad från något annat. [4]
DJI Motion Controller
Ta din flygupplevelse till nya höjder med den nya DJI Motion Controller. Denna kompakta och intuitiva enhet gör att flygplanet kan manövrera stjärnor på dina naturliga handrörelser. Detta är inte bara en FPV-innovation. Det är ett helt nytt sätt att flyga på.

Nödbroms och sväva
Även för experter kan manuell FPV-flygning vara skrämmande. Därför kommer DJI FPV med en nödbroms- och svävfunktion. Tryck bara på den här knappen på fjärrkontrollen medan du flyger i valfritt läge, i vilken hastighet som helst, och flygplanet stannar och svävar stabilt inom några sekunder.
Avancerade säkerhetsfunktioner
En extra bottenbelysning, Smart Return to Home (RTH), RTH med låg batterinivå och hinderavkänning framåt och nedåt är alla integrerade i DJI FPV för att säkerställa en säker flygning, även vid höga hastigheter. [3]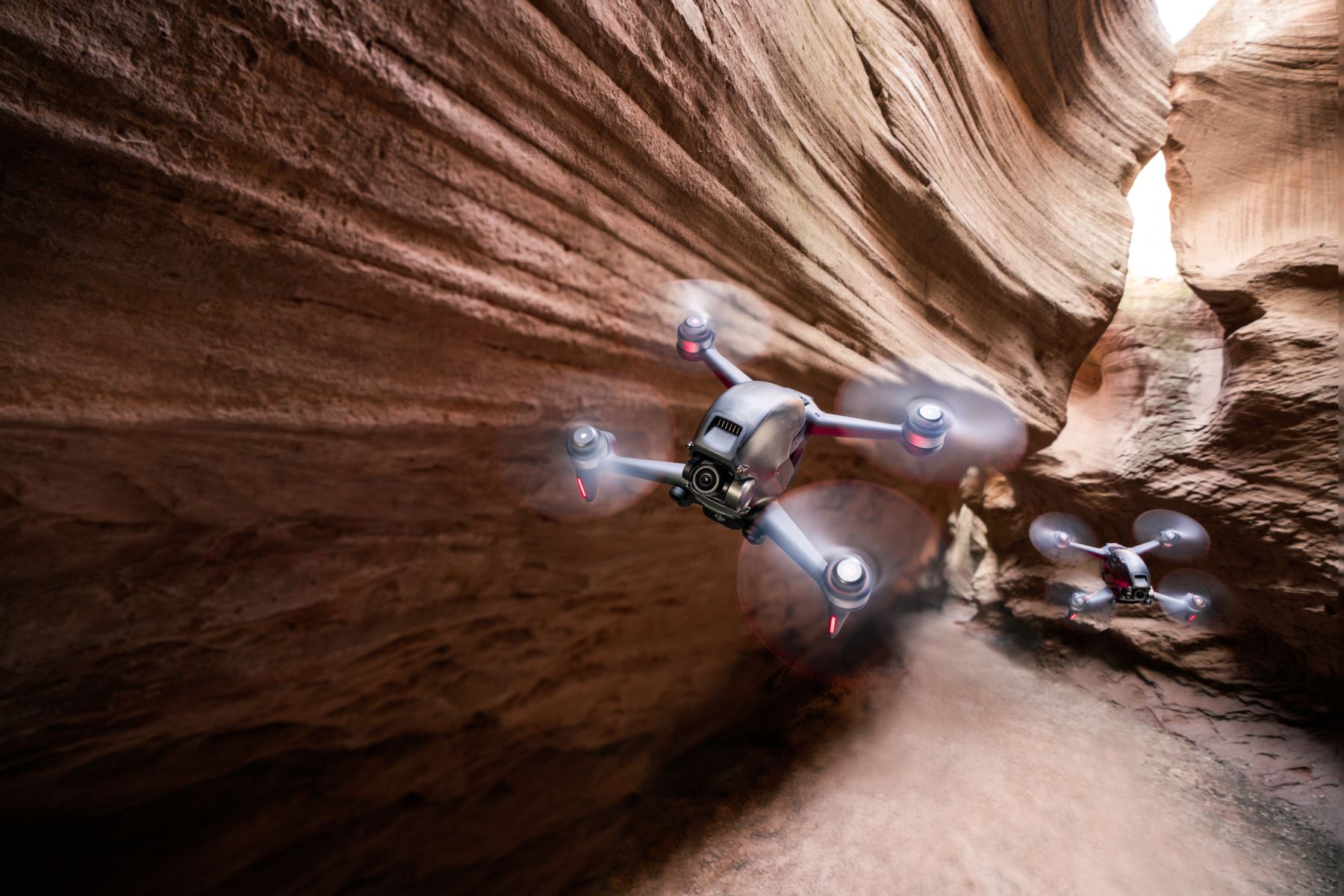 Den bildkraft du förväntar dig av DJI
Få resultat som matchar intensiteten på dina flygningar.
Kraftfulla framdrivningsmöjligheter i kombination med en 150 ° superbredd FOV ger en oöverträffad vy. 4x Slow Motion, RockSteady-stabilisering och distorsionskorrigering ger piloterna ännu jämnare, mer dramatiska resultat.
Unreal Footage
DJI FPV-flygplanet kan spela in 4K / 60 fps-video med upp till 120 Mbit / s och fånga skarpa detaljer som gör att filmen ser lika spännande ut som flygningen.
RockSteady Stabilization
Oavsett hur dynamiska dina manövrar blir, garanterar RockSteady EIS-tekniken att dina bilder är extremt jämna.
* H.264 och H.265 videokodningsformat stöds båda, vilket ger dig fler videoredigeringsalternativ. [5]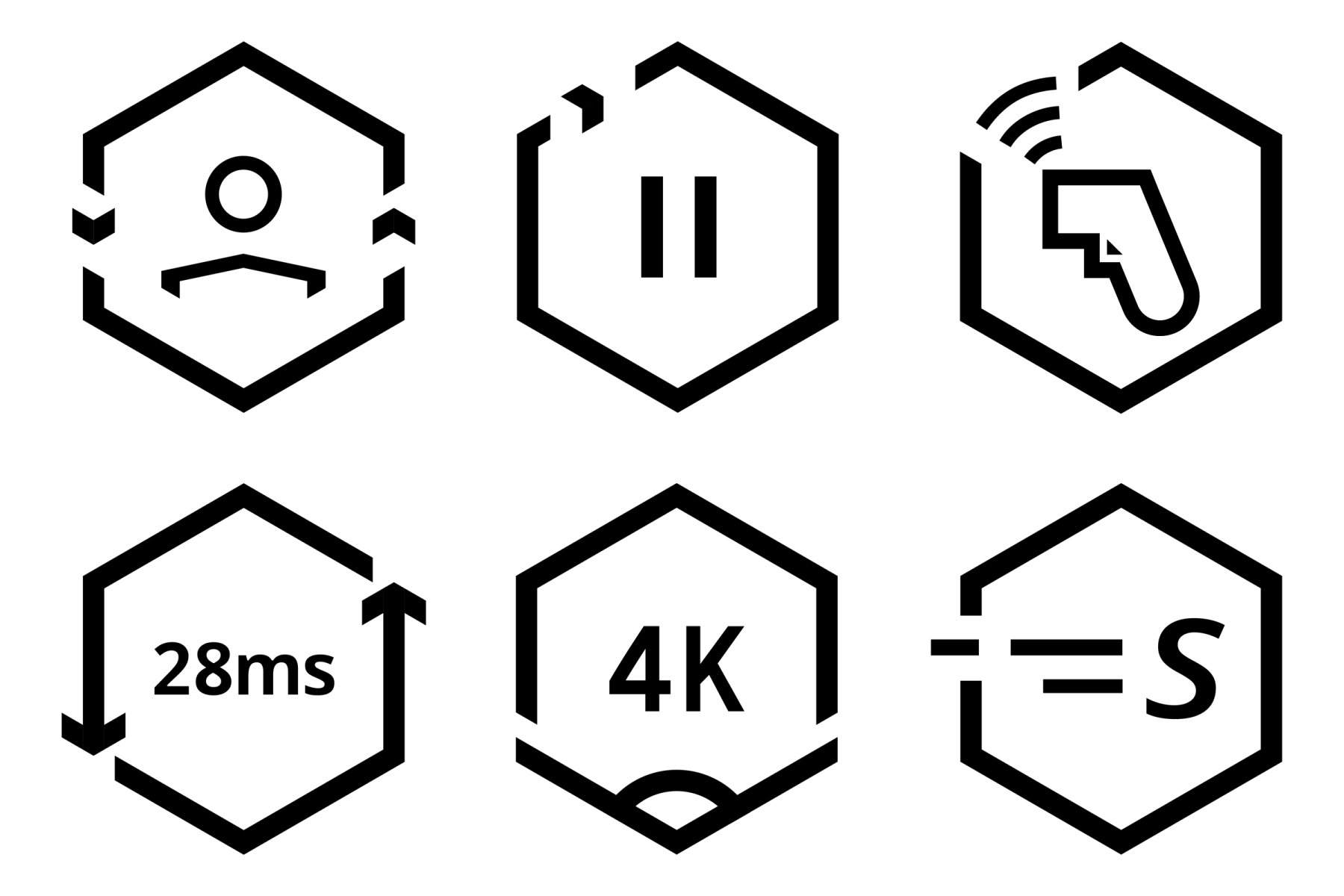 Möt O3
DJI O3 (OcuSync 3.0) överföringssystem anpassades för att matcha DJI FPV: s unika behov. Njut av kristallklar videoöverföring i realtid, även på avstånd upp till 10 km.
Video Transmission Latency
28 ms
Video transmission latency of DJI FPV is lower than 28 ms. [6]
Video Transmission Bitrate
50 Mbps
Video transmission bitrate of DJI FPV goes up to 50 Mbps.
Video Transmission Range
10 km
DJI FPV supports an HD video transmission range up to 10 km. [7]
Automatisk växling för sömlös signal
DJI FPV stöder automatisk växling mellan 2,4 och 5,8 GHz-frekvenser och ger en videoöverföringsbithastighet på upp till 50 Mbit / s, [8] vilket avsevärt minskar stammar och komprimeringsartefakter. Högförstärkningsantenner på flygplanet inkluderar tre sändare och fyra mottagare för att förbättra signalen, vilket resulterar i en stabil, pålitlig videoflöde.
* Om signalen kopplas bort aktiverar DJI FPV automatiskt felsäker RTH.
Engagerad i Safe Skies
En optimerad upplevelse
DJI FPV ger användarna ett extra säkerhetsskikt med inbyggd automatisk beroende övervakningssändning (ADS-B). Detta system tar emot information om flygplacering för bemannade flygplan i ditt område och skickar varningar på Goggles V2, vilket ger tillräckligt med tid för att undvika bemannade flygplan i närheten. [1]
Lätt utbytbara delar
Gimbalkameran, landningsstället och toppskalet på DJI FPV-flygplanet är alla modulära och lätt utbytbara, vilket gör reparationer bekvämare. DJI Care Refresh finns också och erbjuder täckning för ett stort antal skador och ger dig större sinnesfrid när du flyger. [9]
DJI Virtual Flight Appa

[10]
DJI Virtual Flight-appen låter användare öva att flyga i verklighetstrogna, simulerade scenarier innan de går in i den verkliga världen. Anslut bara DJI FPV Goggles V2 och fjärrkontrollen så är du redo att behärska flygningen i en riskfri virtuell miljö.
Ta med någon tillsammans med publikläge
DJI FPV stöder publikläge. Ställ bara in andra DJI FPV Goggles V2-enheter på din flygplanskanal så är du redo att dela utsikten ovanifrån.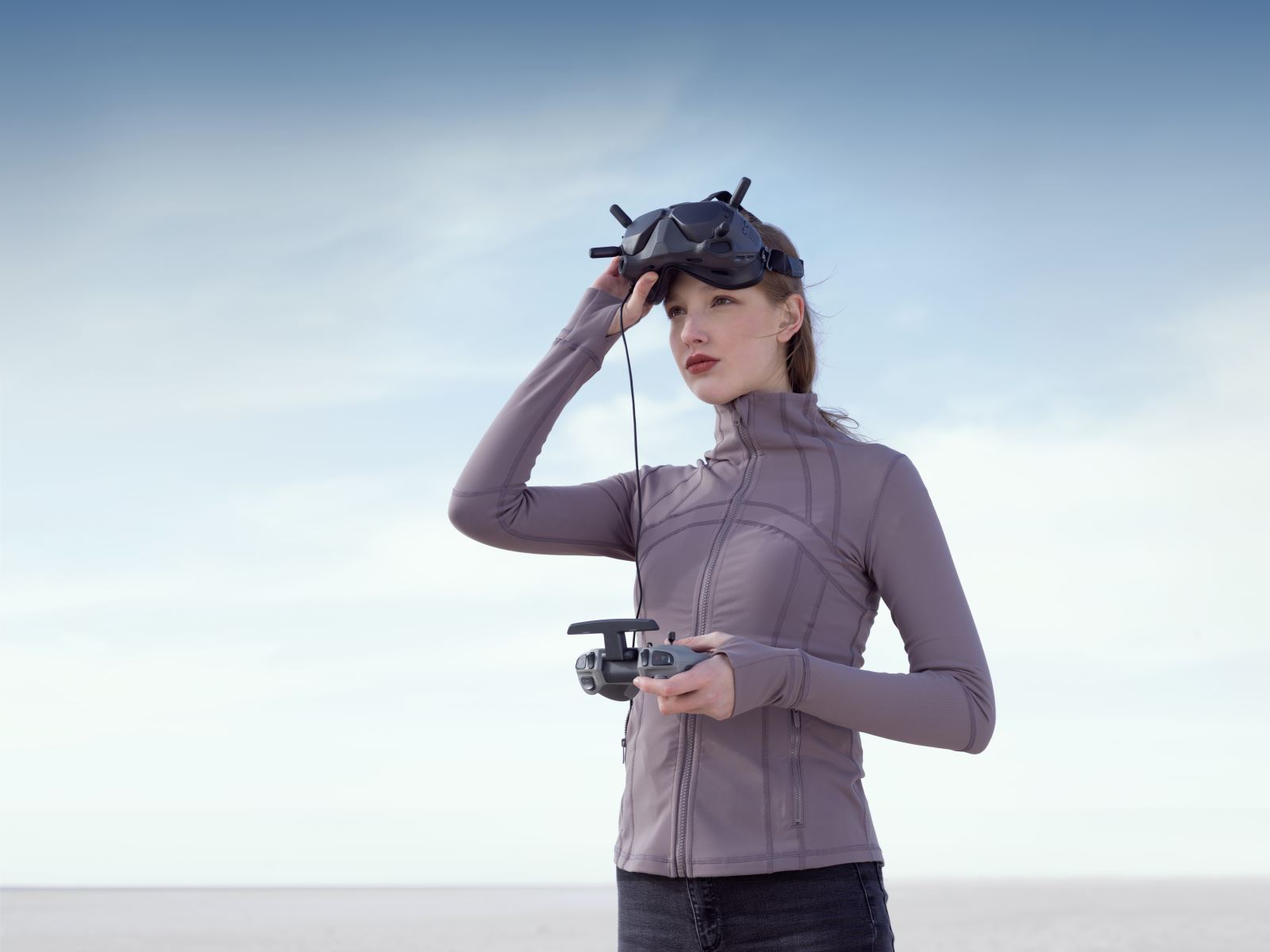 The DJI Fly App
Den är redo att flyga och det är du också
Glöm komplicerad kabeldragning och montering. DJI FPV Combo erbjuder allt du behöver, monterad och redo att gå i en låda. Slå bara på och aktivera flygplanet, fjärrkontrollen och skyddsglasögonen och flyga.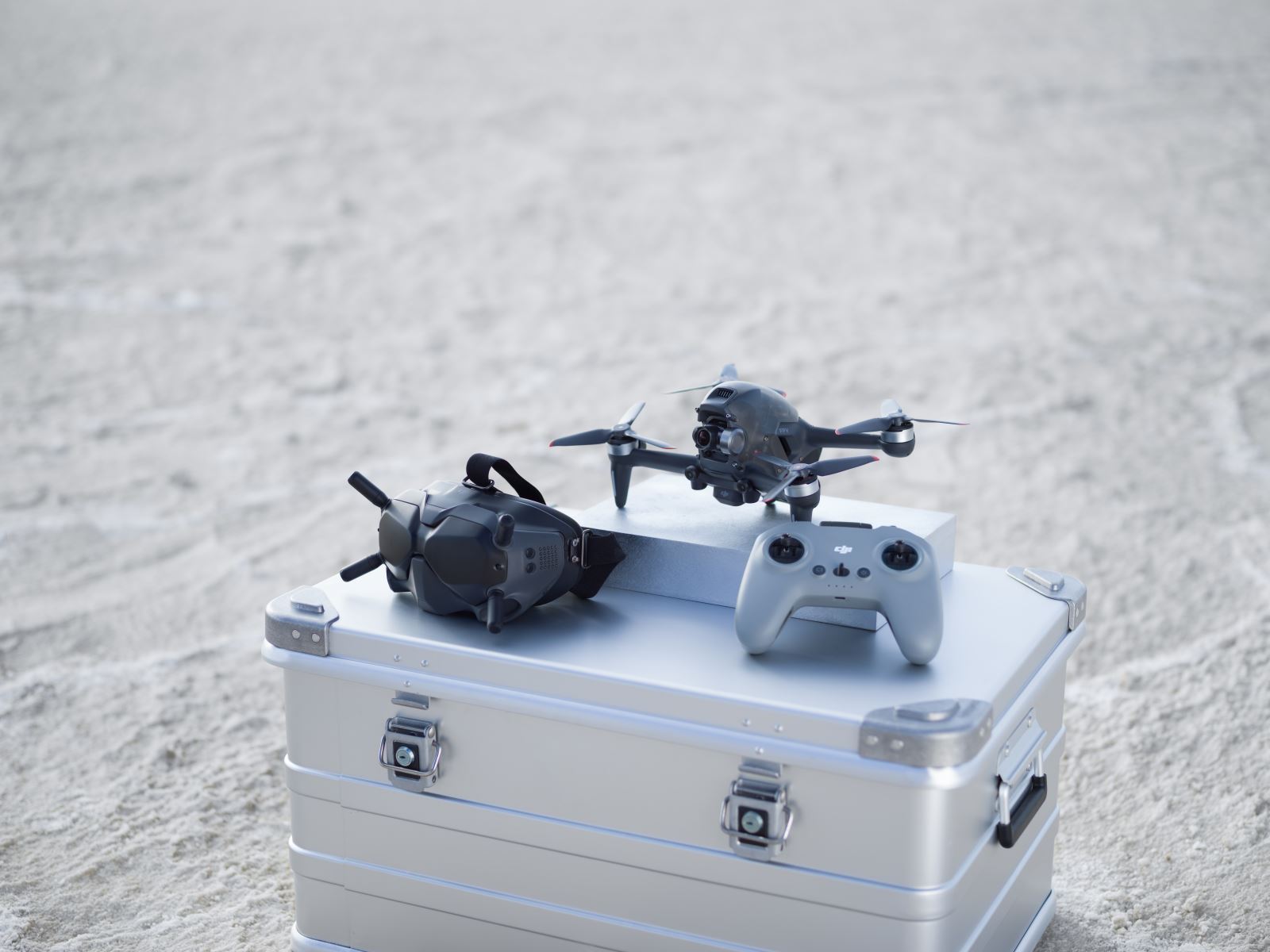 Fotnoter:
Innan du flyger till DJI FPV, kontrollera lokala lagar och regler. Se till att dina flygningar genomförs säkert och i enlighet med alla lokala lagar och förordningar.

150 ° FOV kan endast användas vid fotografering med 50 eller 100 fps.

Hinderavkänning är endast tillgänglig när flygplanet är i N-läge. I det här läget saktar DJI FPV automatiskt av när det upptäcker hinder men stoppar inte automatiskt.

För att säkerställa flygsäkerhet när du använder M-läge rekommenderas att en annan person är närvarande för att observera flygmiljön. För att få en mer exakt kontrollupplevelse när du använder M-läge, justera F1-skruven på baksidan av tryckreglaget (höger sida om du flyger i läge 1, vänster sida om du flyger i läge 2) för att inaktivera återcentrering.

DJI FPV-flygplan stöder två videokodningsformat, medan DJI FPV Goggles V2 endast stöder H.264.

I 810p / 120fps Smooth-läge är latens för videoöverföring mindre än 28 ms; i 810p / 60fps HD-läge är videoöverföringens latens lägre än 40 ms.

FCC-kompatibel. Mätningar gjordes i fri miljö utan störningar. Följ alltid lokala regler och föreskrifter och flyga din drönare inom din visuella synvinkel om inte annat är tillåtet.

Den högsta bithastigheten för videoöverföring är 50 Mbps. Mätt i en öppen utomhusmiljö utan hinder eller störningar.

DJI Care Refresh (DJI FPV) är en serviceplan som ger dig större sinnesro under flygningen. DJI Care Refresh (DJI FPV) erbjuder ersättningar för en liten extra kostnad. Om du köper DJI Care Refresh (2-årsplan) kommer du att få en års förlängning av den officiella täckningen.

DJI Virtual Flight-appen stöder för närvarande endast iOS-enheter.

Denna funktion kommer att finnas tillgänglig i en framtida firmwareuppdatering. Överförda bilder från glasögonen till appen kan skickas till en smartphone via kabel (USB-C till USB-C eller USB-C till blixt).

Funktionen Fly Spots är för närvarande endast tillgänglig i Kina. Alla flygplatser som visas med funktionen Fly Spots är baserade på frivilligt delade platstaggar från SkyPixel-användare. DJI samlar aldrig in eller delar användardata utan användarens samtycke. Kontrollera och följ alltid gällande regler vart du än flyger.
In the Box
DJI FPV Intelligent Flight Battery

× 1

DJI FPV Propellers (Pair)

× 4

DJI FPV Gimbal Protector

× 1

DJI FPV Remote Controller 2

× 1

Spare Control Sticks (Pair)

× 1

DJI FPV Goggles Antenna (Dual Band)

× 4

DJI FPV Goggles Battery

× 1

DJI FPV Goggles Power Cable (USB-C)

× 1

DJI FPV Goggles Headband

× 1

DJI FPV Goggles Foam Padding

× 1

DJI FPV AC Power Adapter

× 1

DJI FPV AC Power Cable

× 1

Vi accepterar Visa/Mastercard/American Express* och Faktura
'Endast tillgängligt via Klarna och i butik.