Fördelar med att handla på DJI Stockholm
✔ Sveriges snabbaste och bästa support på drönare.
✔ Officiell DJI butik.
✔ Full garanti.
✔ Lagar om olyckan är framme.
✔ Alltid först i Sverige med nya modeller.
✔ Snabb leverans.

DJI Wingsland Z15 Gimbal Spotlight
Stockholm (butik & online order):

Beställningsvara

Webblager (endast online order):

1
Wingsland Z15 är en ljus, 3-axlig stabiliserad gimbalstrålkastare. Drivs av DJI SkyPort och har ett driftsområde på upp till 150 m och kan enkelt integreras i DJI Matrice 200-serien V1- och V2-drönare, kan ljusa upp utrymmen på natten eller i ljusförhållanden för användare i brandbekämpning, nödläge, lagstiftning och bortom.
Produktinformation
Material
VANLIGA FRÅGOR OCH SVAR
Wingsland Z15 Gimbal Spotlight supports Dual Intelligent Protection 150 m Max Range Max Power 48 W Downward Gimbals.
Modes
Switch between Always on, Flashing, and SOS modes for different environments and applications.
Air Cooling System
The built-in air-cooling system prevents the spotlight from overheating by constantly dissipating heat.
Intelligent Protection
The Wingsland Z15 is protected against overheating. The system will automatically adjust when the internal temperature exceeds 90°C.
Supports Dual Downward Gimbals
The Wingsland Z15 can be used with DJI Zenmuse payloads on DJI aircraft that include a dual-downward gimbal, helping to illuminate operations.

APPLICATIONS Public Safety
Thanks to its high luminance and long operating range, the Wingsland Z15 provides public safety officials crucial visibility in lowlight conditions across many different types of missions, helping teams gain an aerial overview over a large area. Some applications include:

Firefighting
light up a path to guide the public to a safe place after a fire or a natural disaster.
Emergency Response/Search and Rescue: locate missing persons in hard-to-reach areas when visibility is low.

Law Enforcement: act as a flexible light source for crowd management, forensic investigations, or routine patrols.

Infrastructure/Facility Repair and Maintenance
When power suddenly cuts off or when structures collapse at night, the Wingsland Z15 can be used to light up a large area from the air so that emergency repairs can be conducted in an efficient, timely manner. This will help keep both the public and the personnel safe as well as save costs. COMPATIBLE PRODUCTS
DJI Matrice 200 Series, Matrice 200 Series V2

DJI PILOT
The Wingsland Z15 can be controlled using the DJI PILOT app. It supports the use of both Wingsland and DJI Zenmuse payloads on the models that include a dual-downward gimbal, including the M210, M210 V2, M210 RTK, and M210 RTK V2.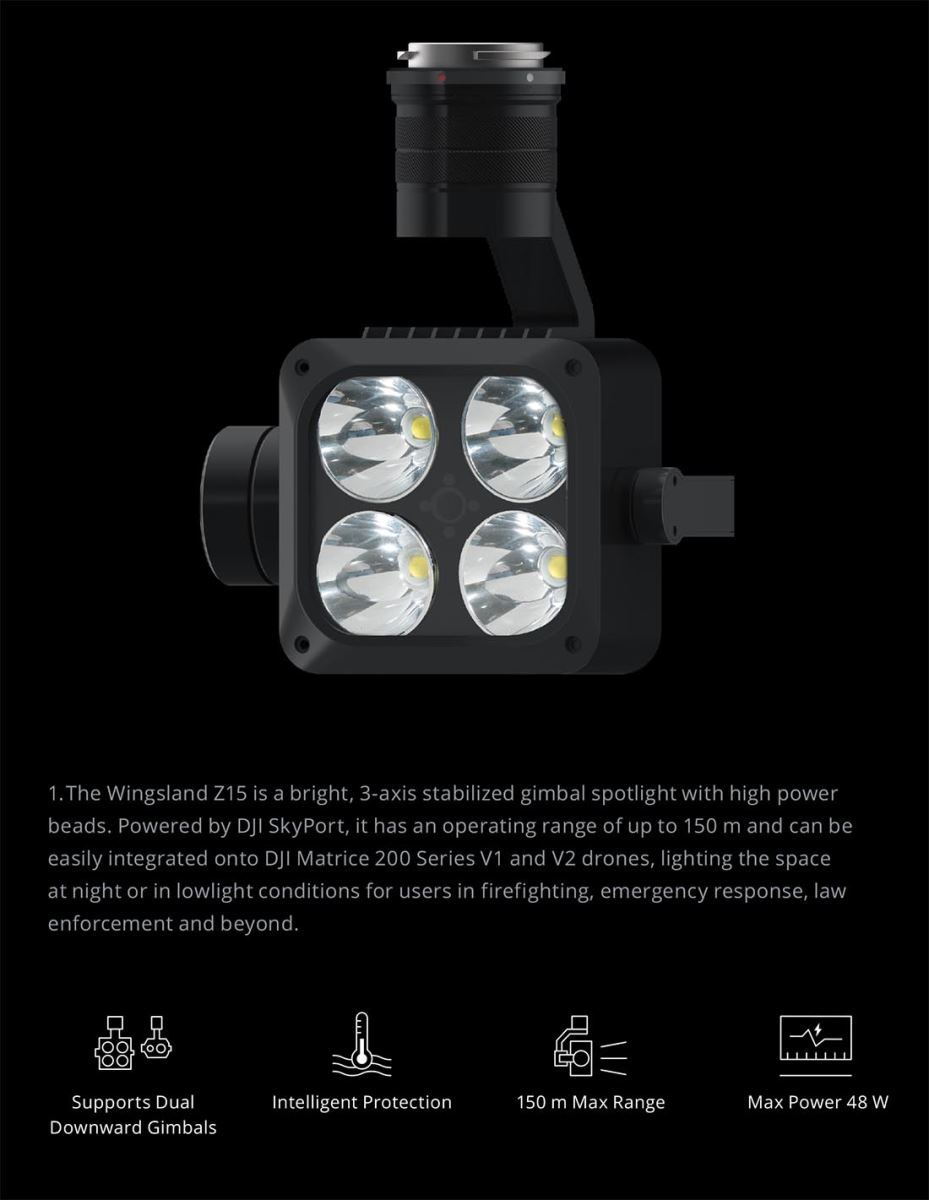 General Specifications
Product Name: WINGSLAND Z15 Gimbal Spotlight
Port Type: DJI SkyPort
Dimensions: 100 x 110 x 150 mm
Weight: 500 g
Rated Power: 48 W

LED Light Beads
Voltage: 6V
Power: 40 W
Luminous Flux: 10200 lm
FOV: 15°
Operating Range: 150 m
Area Coverage: 1863 m2 @ 120 m; 323 m2 @ 50 m
Illuminance: 4 lux @120m; 11 lux @ 60 m; 47 lux@30 m
Gimbal
Angular Vibration Range: ±0.02°
Mount: Detachable
Controllable Range: Pitch: -90° to +90°, Yaw: ±170°
Max Control Speed: Pitch: 60°/s, Yaw: 60°/s

Temperature Parameters
Operating Temperature: -10 °C to 50 °C
Storage Temperature: -20 °C to 60 °C
WINGSLAND Z15 Gimbal Spotlight USER MANUAL
/Userfiles/Upload/files/WINGSLAND%20Z15%20GIMBAL%20SPOTLIGHT%20USER%20MANUAL_v1_2%20_0712(1).pdf
WINGSLAND Z15 GIMBAL SPOTLIGHT FAQ
●Which platform does Z15 support?
A: Support M200 V1 series and M200 V2 series;
●How to install Z15 to the drone?
A: Z15 is designed based on the DJI SKYPORT and can be directly installed to the M200 drone, the same steps as installing DJI Zenmuse camera;
●How to install Z15 to the M210 dual downward gimbal slot?
A: If Z15 is used with ZENMUSE X5S/X7/XT2, please install Z15 to II position gimbal slot; B: If the Z15 is used alone, please install the Z15 to I position gimbal slot;
●Does Z15 support the M210 V1 dual Downward Gimbals?
A: The M210 V1 dual Downward Gimbals function needs to update the drone firmware to the latest;
●Does Z15 support DJI PILOT?
A: Yes, DJI PILOT officially supports natively, no need to install third-party application APP;
●What are the characteristics of Z15 compared to the M2E spotlight? A:
Z15 has a 3-axis gimbal for flexible adjustment of the lighting angle;
Using 4 high-power Cree lamp beads, power up to 68W, luminous flux up to 10200lm; Supporting dual Downward Gimbals with DJI Zenmuse camera;
●What is the actual lighting effect of Z15?
A: Under the overhead light of 120 meters, the ground staff can read the newspaper;
●What is the area illuminated by Z15 at different flight altitudes?
A:At an altitude of 120 meters, the area illuminated by the ground is 1863 m², which is equivalent to the area of 5 standard basketball courts;
At an altitude of 50 meters, the area illuminated by the ground is 323 m², which is equivalent to a standard basketball court area;
●Is Z15 spotlight harmful to the human eye? A: Please don't illuminate the human eye;

Vi accepterar Visa/Mastercard/American Express* och Faktura
'Endast tillgängligt via Klarna och i butik.