Fördelar med att handla på DJI Stockholm
✔ Sveriges snabbaste och bästa support på drönare.
✔ Officiell DJI butik.
✔ Full garanti.
✔ Lagar om olyckan är framme.
✔ Alltid först i Sverige med nya modeller.
✔ Snabb leverans.

DJI Mavic Mini + 50% rabatt på DJI Care
Streckkod: 6958265192869-2

Ej på Lager
Den kompakta men ändå kraftfulla Mavic Mini är den perfekta kreativa följeslagaren och fångar dina ögonblick på ett sätt som utan problem höjer det vanliga.
Nu får du även 50% rabatt på DJI Care vid köp av Mavic Mini
Produktinformation
Material
Ta till himlen med Mavic Mini, DJI: s lättaste och minsta fällbara drönare!
Den ultralätta Mavic Mini gör dröneflygning enklare och säkrare än någonsin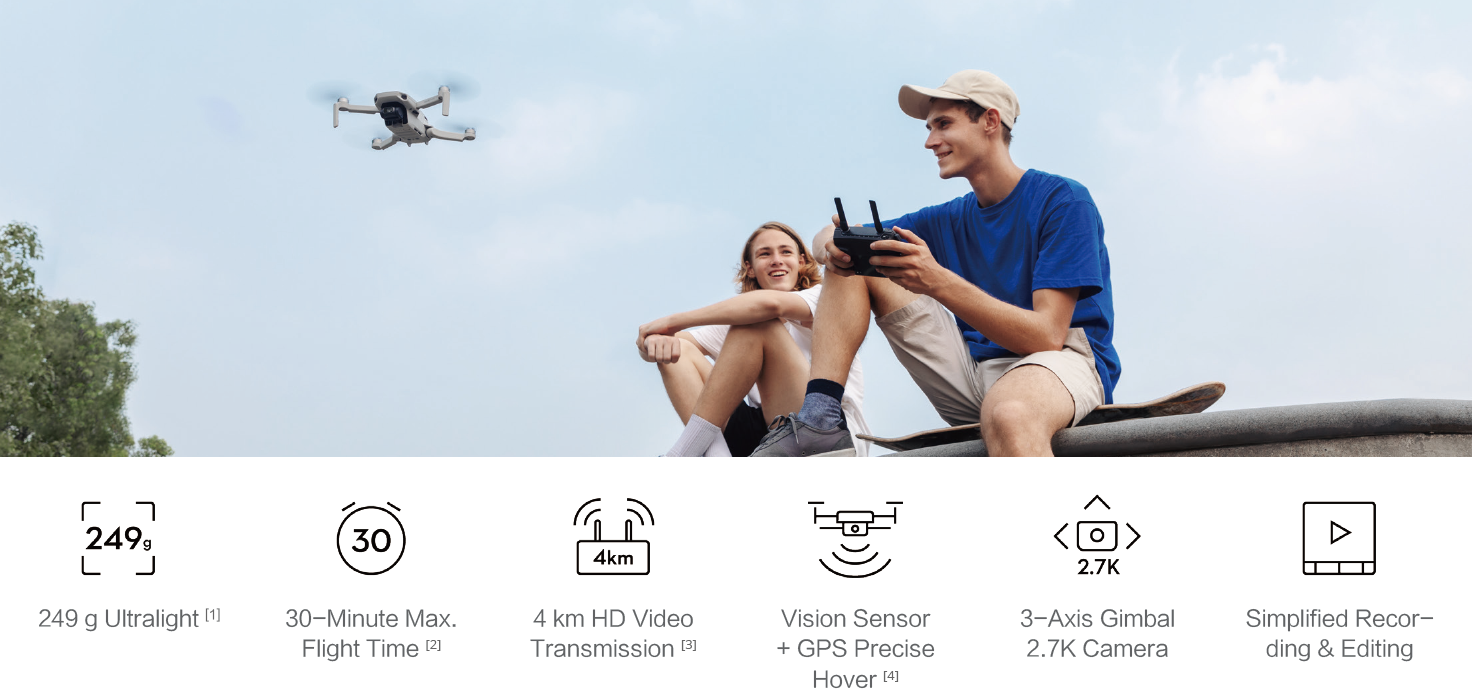 Mindre, lättare, bättre
Nästan lika enkelt som en smartphone
Med en vikt under 250 gram är Mavic Mini nästan lika lätt som den genomsnittliga smarttelefonen. Detta gör den otroligt bärbar och placerar drönaren i den lägsta och säkraste drönaren i viktklassen. Med Sveriges framtida bestämmelser behöver Mavic Mini inte registreras hos Trafikverket och du som pilot behöver inte flygtillstånd. Mindre att tänka på, mer tid att flyga.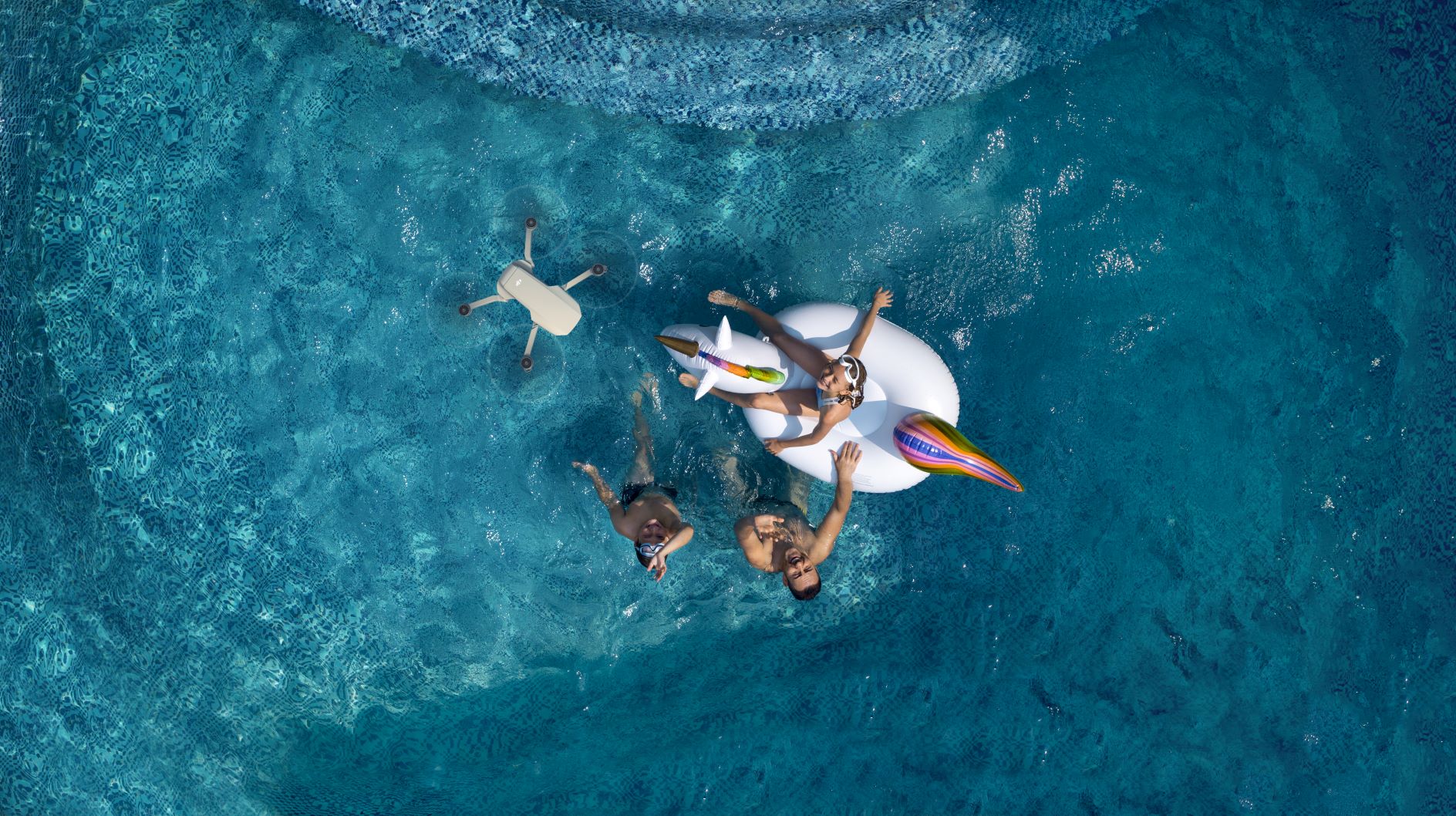 Lätt att använda
Snabb och enkel drift
Den nya appen DJI Fly erbjuder en enkel och intuitiv användarupplevelse, så att du kan skapa filmbilder med bara några klick. Det har till och med 'Flight Tutorial', en funktion som hjälper dig att komma igång med Mavic Mini snabbt och säkert.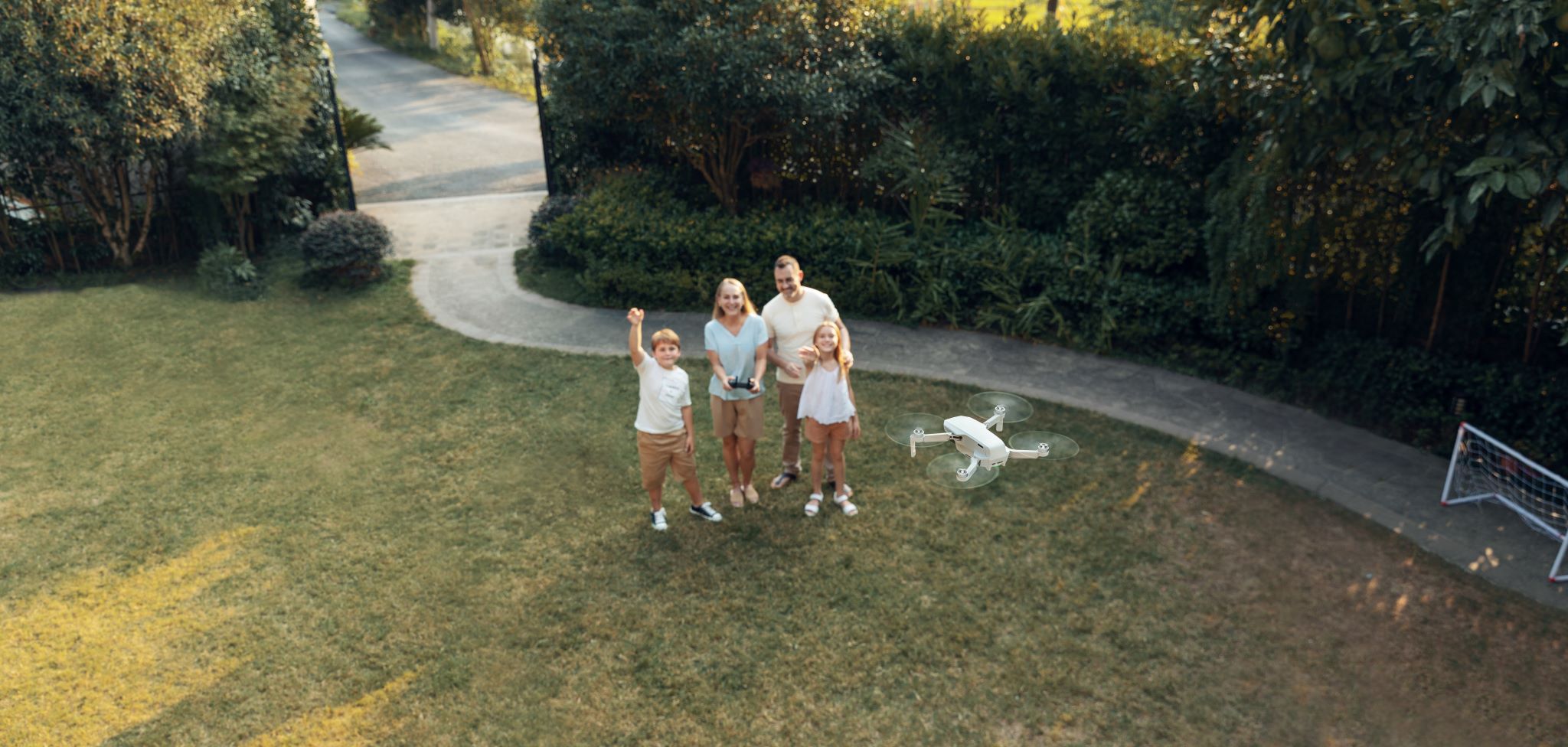 Säkert flyg med Mavic Mini
Mindre oro, mer flyg.
Mavic Mini är utrustad med en 360 ° propellskydd som skyddar propellerna helt och förbättrar flygsäkerheten. [5] Tack vare avancerade sensorer kan Mavic Mini också sväva med hög precision både inomhus och utomhus.
Användarvänliga mallar
Låt appen göra jobbet.
DJI Fly-appen erbjuder en mängd olika kreativa skaparmallar som genererar fantastiska videor med bara ett klick. Även nybörjare utan redigeringsfärdigheter alls kan ta ett ögonblick att träffa sociala medier.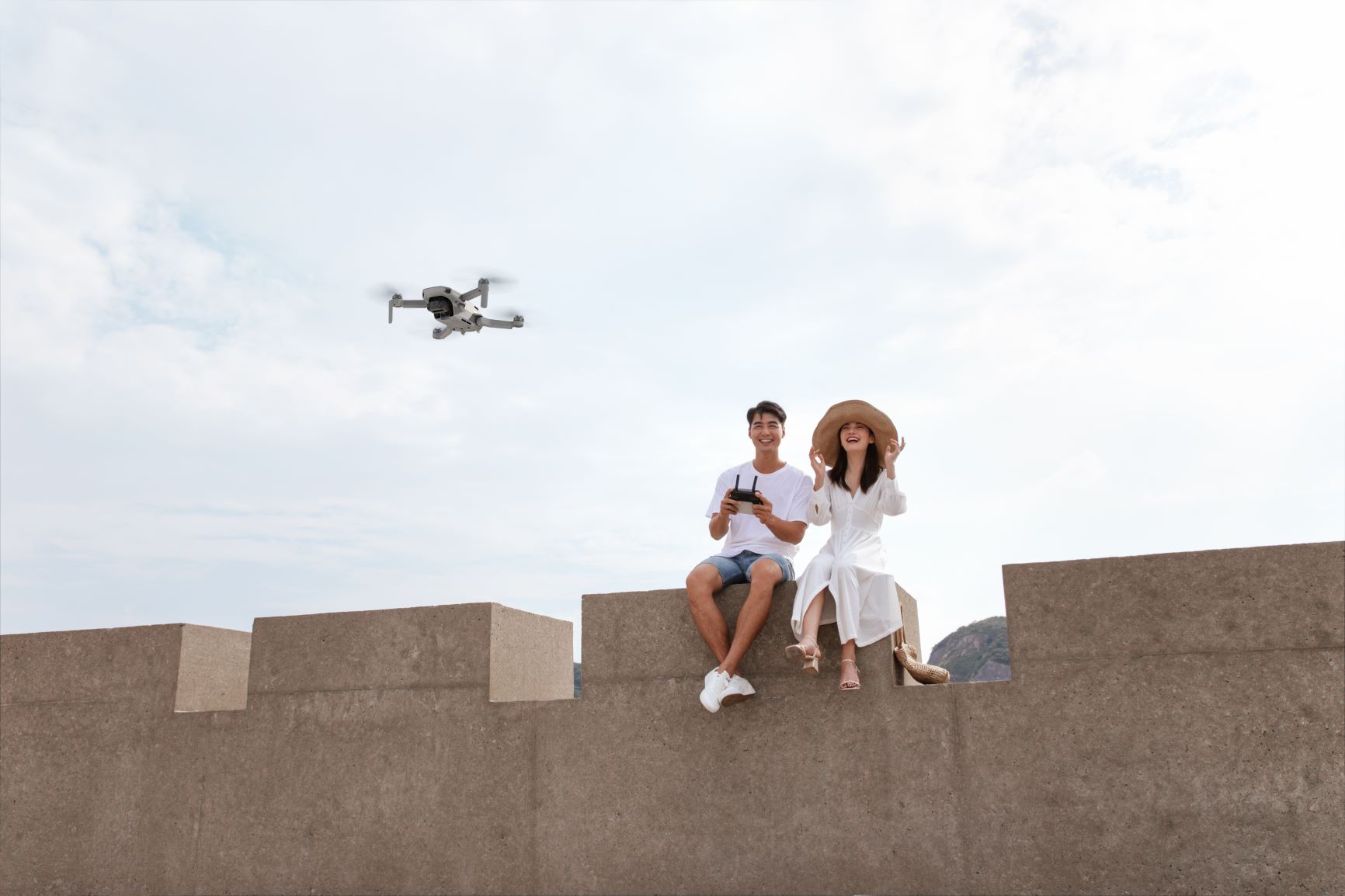 Skapa släta och livliga bilder
Kamerastabiliserande gimbal
Förändra de vanliga stunderna till ett konstverk
Mavic Mini tar vackra bilder med 12MP upplösning och spelar in 2,7k video med en utmärkt stabilitet tack vare en 3-axlig gimbal.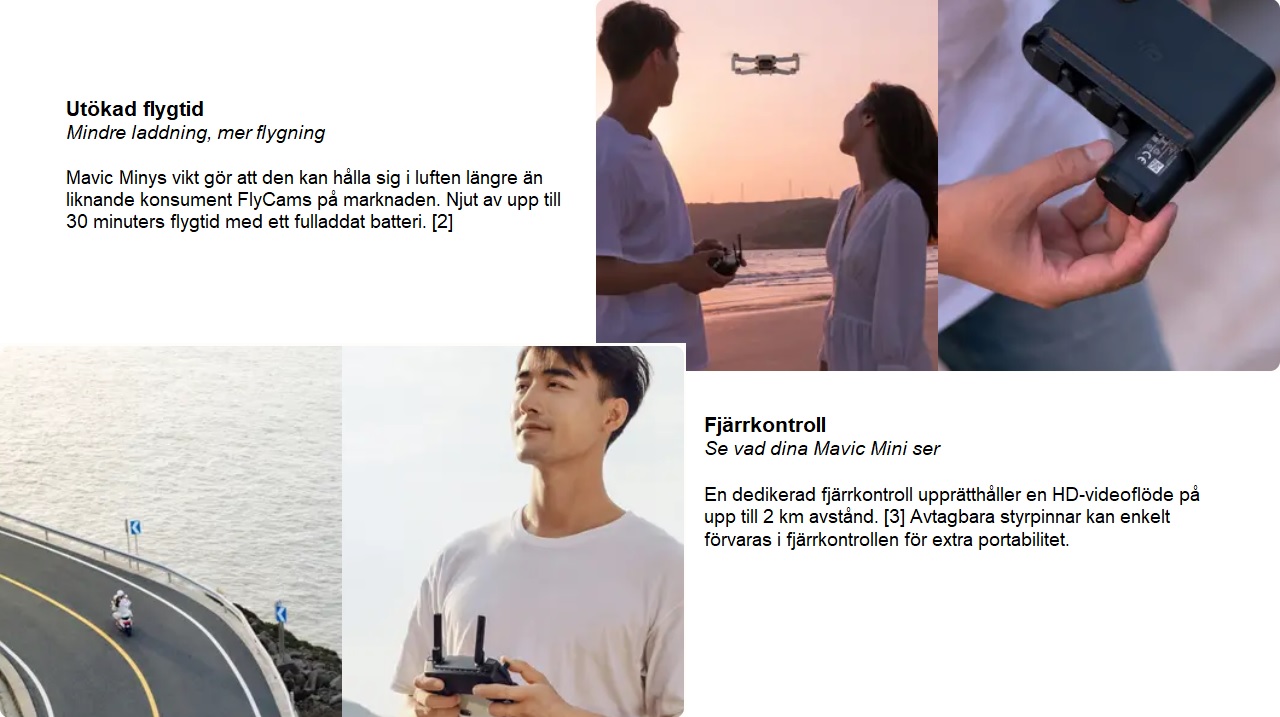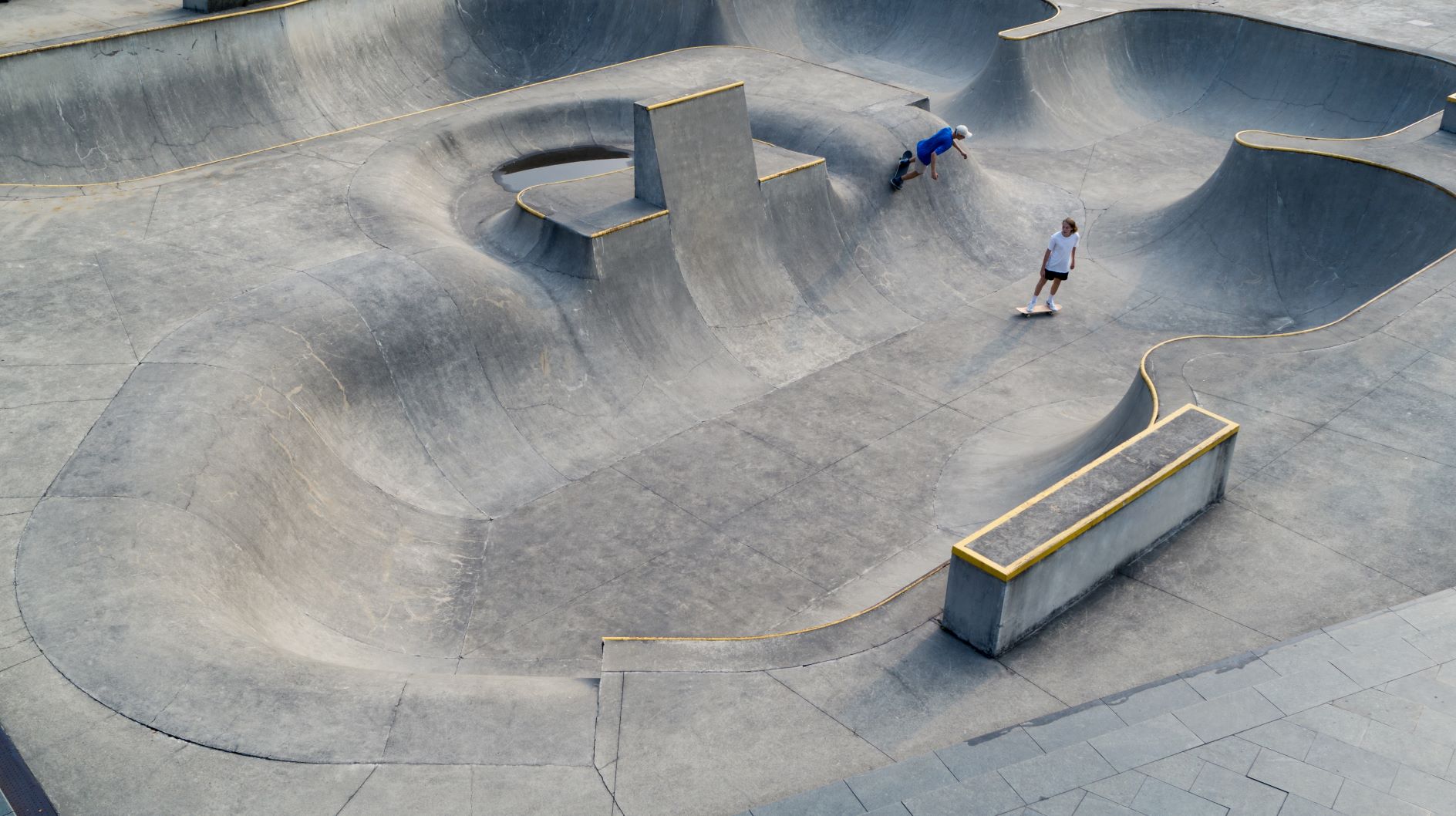 QuickShots
Komplexa bilder är enklare än någonsin

Bilder som ser ut som om de kom från en Hollywood-filmuppsättning är bara några klick bort med Mavic Minys QuickShot-läge, som inkluderar Dronie, Circle, Helix och Rocket. Välj bara QuickShot så Mavic Mini kommer att utföra en detaljerad förinställd rörelse under inspelningen. Ta den automatiskt genererade korta videon och dela den direkt med vänner på sociala medier.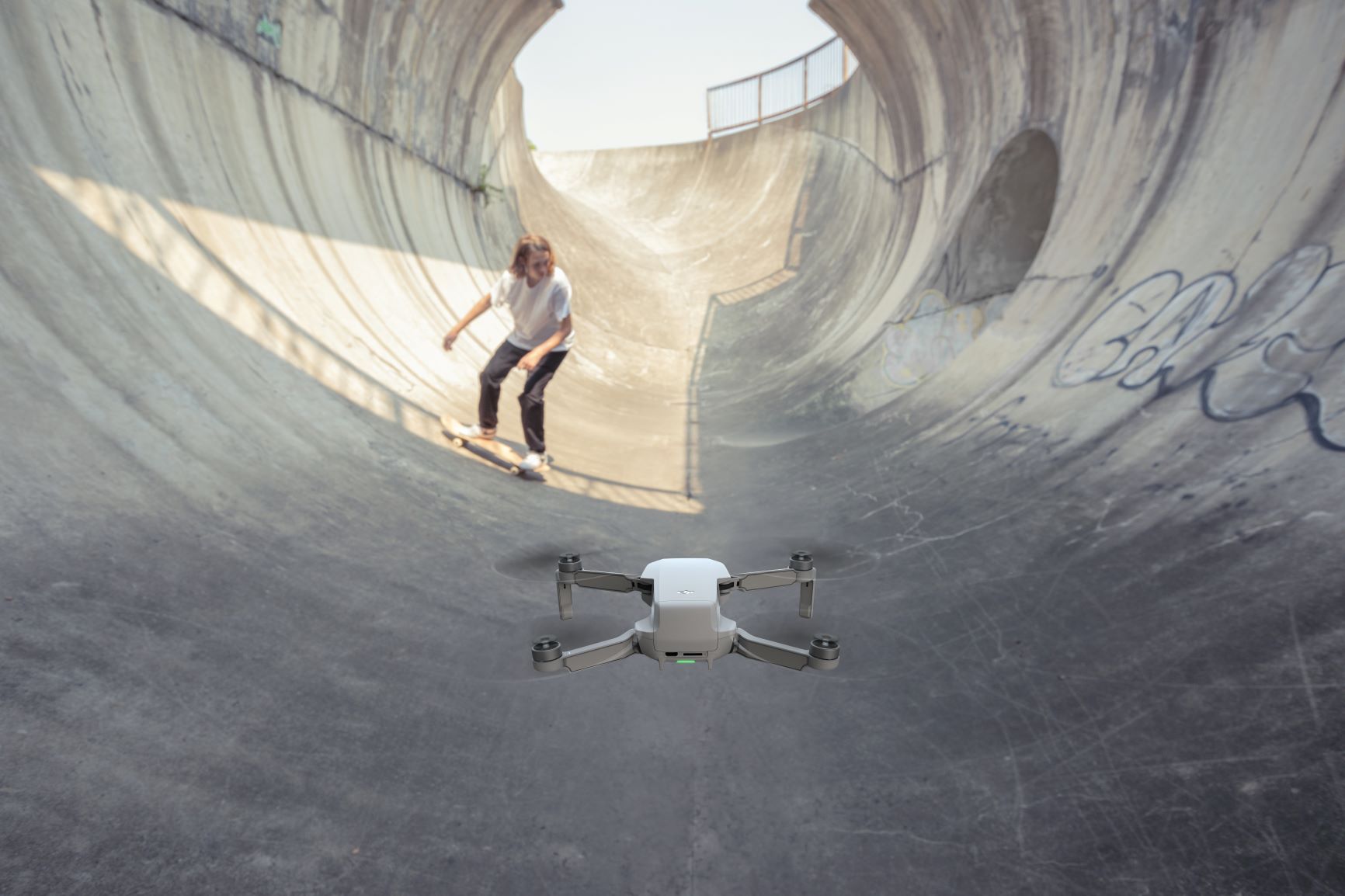 CineSmooth läge
Smidig rörelse för filminspelning
Långsam Mavic Mini flyghastighet och rörelse för ett extra lager av precision och stabilitet. Detta läge är särskilt användbart när du flyger i trånga eller komplexa utrymmen.
Upptäck populära platser
Hitta natursköna fotograferingsplatser i närheten
DJI Fly-appen ger användare integrerad åtkomst till SkyPixel, en social medieplattform för användare att dela flygfoton och video. Bläddra i arbete, dela dina egna och upptäck populära flygfoton i ditt område. [6]
Anmärkningar:
1. Flygplanets startvikt inkluderar batteri och propeller. Kontrollera alla tillämpliga regler och föreskrifter före användning och flyga alltid säkert i närheten av andra.
2. Mätt med en konstant hastighet av 14 km / h under lugna förhållanden.
3. 4 km för FCC-kompatibel modell (MT1SS5) och 2 km för CE-kompatibel modell (MT1SD25). Mätningar gjordes i en fri miljö utan störningar. Flyga alltid din drönare inom den synliga linjen, såvida inget annat tillåts.
4. Vision placering kräver icke-reflekterande, märkbara ytor och adekvat belysning. Finns i höjder från 0,5-30 meter. Den vertikala och horisontella positioneringsnoggrannheten är inom ± 0,1 m.
5. Fly More Combo innehåller 360 ° propellskydd.
6. Funktionen Fly Spots är för närvarande endast tillgänglig i Kina. Alla flygplatser som visas med funktionen Fly Spots är baserade på frivilligt delade platskoder från SkyPixel-användare. DJI samlar in eller delar aldrig användardata utan användarens samtycke. Kontrollera och följ alltid gällande regler vart du än flyger.
Drönare
Vikt med batteri
249g
Dimensioner
Hopfälld: 140×82×57 mm (L×W×H) Utfälld: 160×202×55 mm (L×W×H) Utfälld (med propellrar): 245×290×55 mm (L×W×H)
Diagonalmått
213 mm
Max stighastighet
4 m/s (S Mode), 2 m/s (P Mode), 2 m/s (C Mode)
Max nedstigningshastighet
3 m/s (S Mode), 1.5 m/s (P Mode), 1 m/s (C Mode)
Max hastighet
13 m/s (S Mode), 8 m/s (P Mode), 6 m/s (C Mode)
Max flyghöjd
3000 m
Max flygtid
30 min (14 km/h i vindstilla förhållande)
Max vindmotstånd
7.9 m/s (Skala 4)
Användartemperatur
0° to 40°C (32° to 104°F)
Användarfrekvenser
MT1SS5: 5.725-5.850 GHz
GNSS
GPS/GLONASS
Hovringskapacitet
Vertikalt: ±0.1 m (med VPS), ±0.5 m (GPS) Horisontellt: ±0.3 m (VPS), ±1.5 m (GPS)
Gimbal
Mekaniska maxvinklar
Tilt: -110° till 35° Roll: -35° till 35° Pan: -20° till 20°
Kontrollerbara maxvinklar
Tilt: -90° till 0° (standard) -90° till +20° (utökad funktion))
Stabilisering
3-axis (tilt, roll, pan)
Kamera
Sensor
1/2.3" CMOS. Effektiva pixlar: 12 MP
Lins
FOV: 83° 35 mm Format Equivalent: 24 mm Aperture: f/2.8 Shooting Range: 1 m to ∞
ISO omfång
Video: 100-3200 (Auto) 100-3200 (Manual) Photo: 100-1600 (Auto) 100-3200 (Manual)
Slutarhastighet
Elektronisk slutare: 4-1/8000s
Storlek stillbild
4:3: 4000×3000 16:9: 4000×2250
Stillbild modes
Single shot Interval: 2/3/5/7/10/15/20/30/60 s
Videoupplösning
2.7 K: 2720×1530 25/30 p FHD: 1920×1080 25/30/50/60 p
Max bitrate video
40 Mbps
Filsystem
FAT32
Filformat foto
JPEG
Filformat video
MP4 (H.264/MPEG-4 AVC)
SD Kort
SD kort som stöds
Max 256GB
Batteri
Kapacitet
1100 mAh
Volt
7.2 V
Max volt laddning
8.4 V
Batterityp
Li-ion 2S
Energiinnehåll
17.28 Wh
Nettovikt
100 g
Laddningstemperatur
5° till 40°C (41° till 104°F)
Max effekt laddning
24 W
In the Box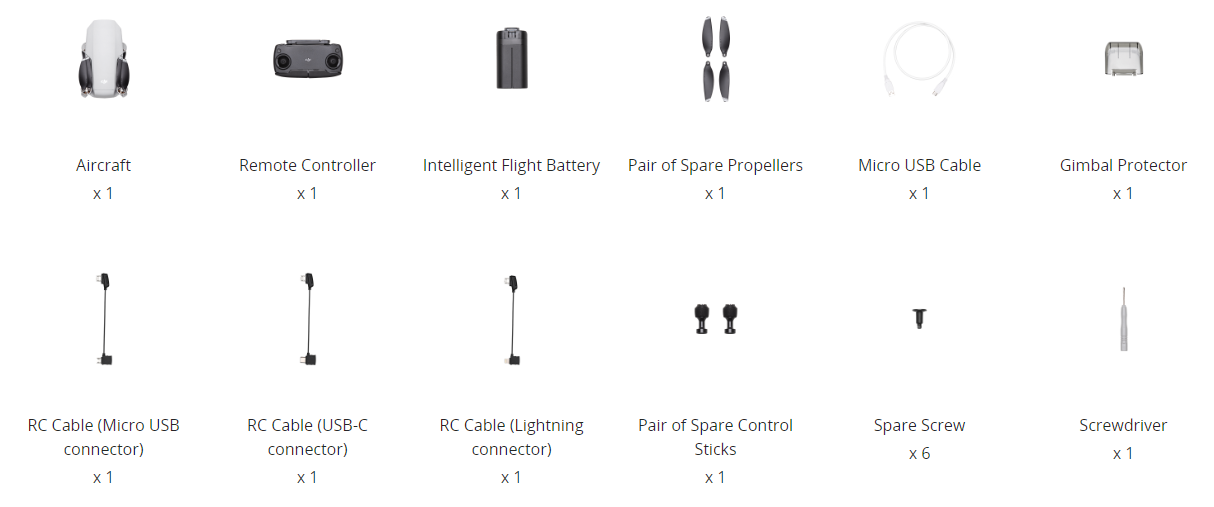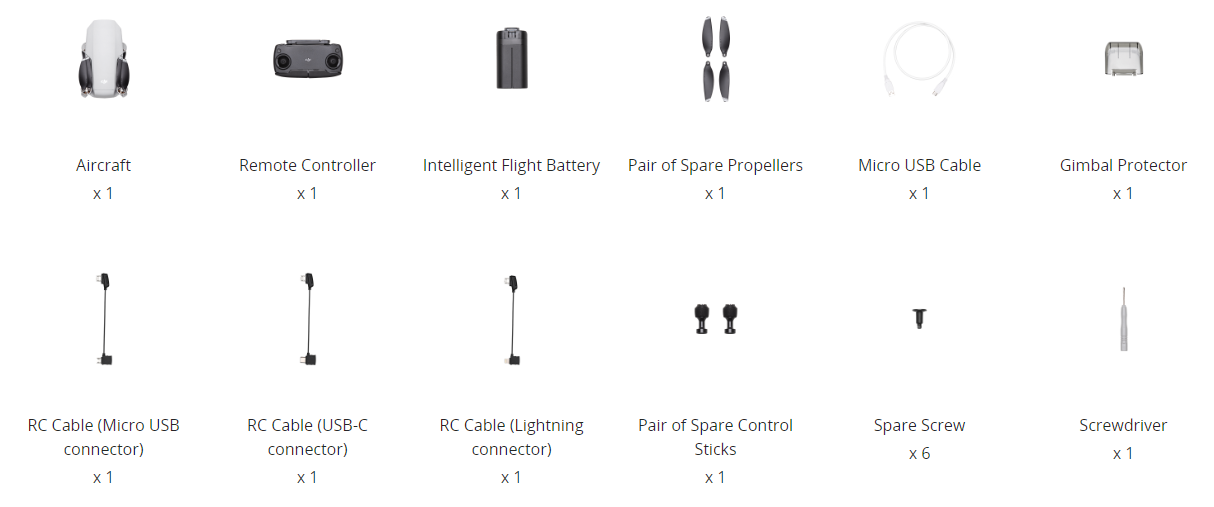 *Vi delar samma lager både på hemsidan och i butiken

Vi accepterar Visa/Mastercard/American Express* och Faktura
'Endast tillgängligt via Klarna och i butik.