Fördelar med att handla på DJI Stockholm
✔ Sveriges snabbaste och bästa support på drönare.
✔ Officiell DJI butik.
✔ Full garanti.
✔ Lagar om olyckan är framme.
✔ Alltid först i Sverige med nya modeller.
✔ Snabb leverans.

DJI Mic
Stockholm:

Ej på Lager

Fjärrlager:

0
250m överföringsräckvidd
Dubbelkanalsinspelning
Upp till 14 timmars inbyggt minne
Portabel och kompakt
Bred kompatibilitet
15 timmars batteritid
Förväntad leverans i början av december
Produktinformation
Material
VANLIGA FRÅGOR OCH SVAR
Med DJI Mic kan du nu enkelt spela in ljud som matchar kvaliteten på dina videor. Det är idealiskt för kreatörer som vill få ett försprång och lyfta sitt innehåll till nästa nivå. Den levererar exceptionell ljudkvalitet och dubbelkanalsinspelning på avstånd på upp till 250 m. Slå på, anslut och spela in kristallklart ljud när du är på språng. Dubbelkanalsinspelning
DJI Mic kommer med två sändare, var och en med inbyggda mikrofoner. Båda sändarna stöder rundstrålande ljud, vilket gör dem idealiska för intervjuer med flera personer och mindre studioverksamhet. Ljud av hög kvalitet
DJI Mic låter dig spela in professionellt ljud med hög kvalitet genom att exakt återge tonen över ett bredare frekvensområde. Inspelningar kan göras separat via varje kanal, eller de två kanalerna kan kombineras för flexibilitet i efterproduktionen.
Inbyggd pekskärm och inbyggt minne
Mottagarens pekskärm ger dig enkel tillgång till kanalval, in-/utgångsinställningar och andra viktiga funktioner. Båda sändarna kommer med 14 timmars inbyggd lagring för att förhindra att ljudramen tappas, tappas och andra problem. [2]
Trådlös överföring
Njut av tydligt och pålitligt ljud, även i komplexa scenarier. Sändarna och mottagaren kommunicerar via kraftfull trådlös överföring som håller ljudet stabilt samtidigt som ljudfördröjningen minskar, även på långa avstånd. 250m överföringsräckvidd
Genom att använda DJI:s senaste krypteringsteknik kan DJI Mic spela in skarpt ljud på avstånd på upp till 250 meter.
Trådlös bekvämlighet
Hela DJI Mic-systemet är trådlöst anslutet via ett stabilt 2,4GHz frekvensband, vilket gör att du kan röra dig med full frihet när du spelar in ditt äventyr.
Kraftfull anti-interferens
Det optimerade trådlösa överföringssystemet säkerställer en stabil ström av ljud, även i områden som tågstationer, köpcentra och kontor.

Bärbar och portabel
Fäst bekvämt en sändare till vad du än har på dig via det integrerade bakklämman eller genom att använda clipsmagneterna. Med en vikt på cirka 30 gram (1 oz), är det bekvämt och smidigt att bära sändaren. När kläderna du har på dig inte passar för ryggklämman, kan sändarna även fästas via clipsmagneterna. Anslut mottagaren till din DSLR-kamera, spegelfria kamera eller smartphonefäste med hjälp av adaptern för blixtskon och fånga felfria bilder som matchar ljudet. Varje sändare har en bekväm bakklämma som enkelt kan fästas på kläder och andra föremål.
Väldigt kompatibel
Olika enheter betyder olika ingångsadaptrar, och DJI Mic täcker dem alla. Mottagaren har USB-C, Lightning och 3,5 mm TRS-portar, vilket gör den kompatibel med vanliga smartphones, kameror och bärbara datorer. DJI Mic Laddningsfodral
Det ultraportabla laddningsfodralet är det perfekta hemmet för DJI Mic. Med den kan du ladda sändarna och mottagaren, bekvämt lagra komponenter och snabbt para ihop systemet direkt ur fodralet. Ultralång batteritid
Letar du efter ett system som kan hålla jämna steg med dina innehållsbehov? Få en hel dag av ljudinspelning med DJI Mic. Njut av 5,5 timmars batteritid från sändarna, 5 timmar från mottagaren och upp till 15 timmar med laddningsfodralet. [3]
Blixtsnabb parning
Både sändarna och mottagaren kommer automatiskt att paras ihop med din enhet så snart de tas ut ur laddningsfodralet. Slutför helt enkelt den första installationen och var redo att spela in exceptionellt ljud på några sekunder.
Rik funktionalitet
Säkerhetsspår
Multi-level Gain Control
Vindskydd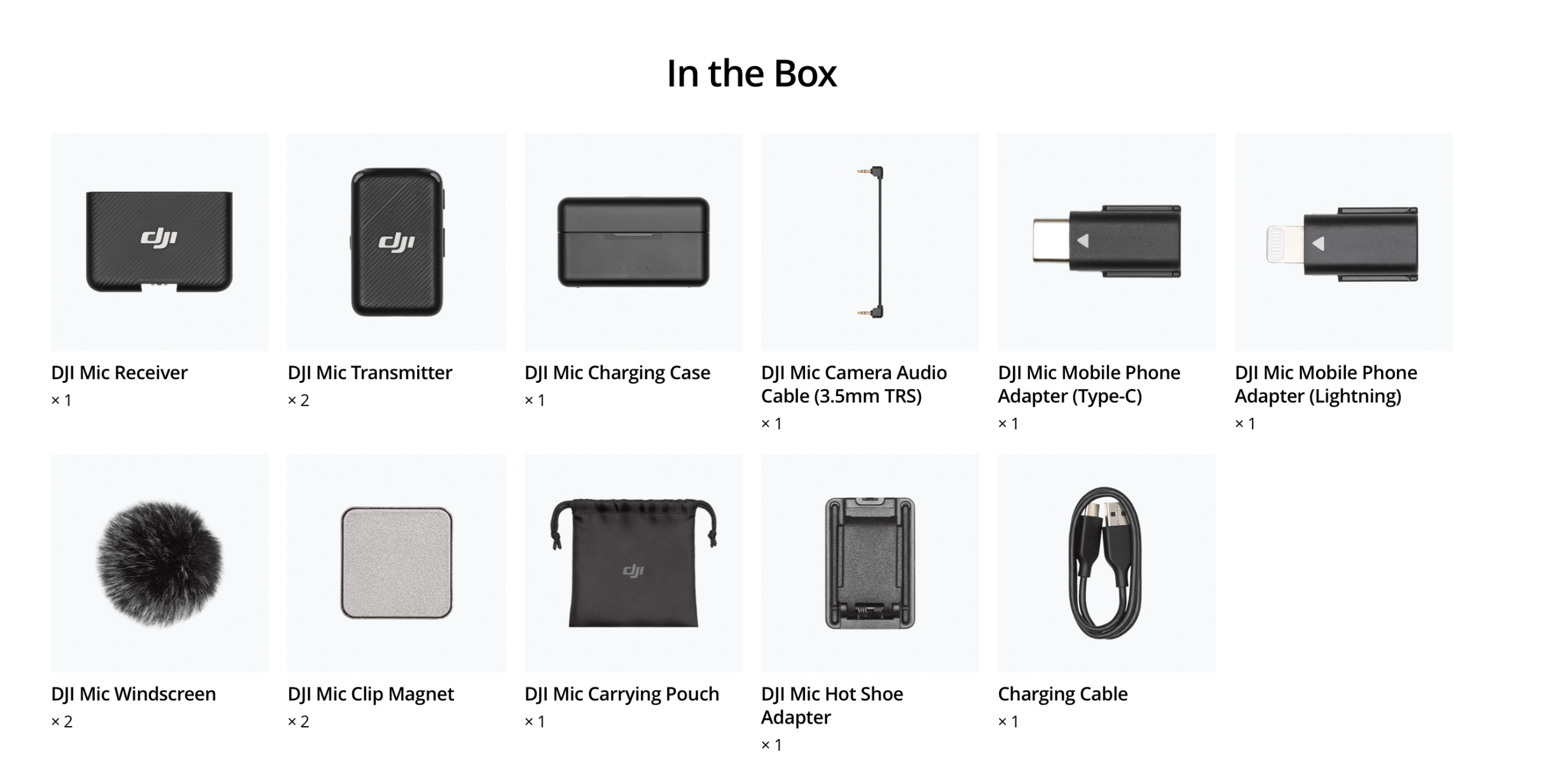 DJI Mic Transmitters
Dimensions

47.32×30.43×20.01 mm
Wireless Mode

GFSK 1 Mbps and 2 Mbps
Operating Frequency

2400-2483.5 MHz
Battery Type

Lipo battery BHX211-320-3.85
Charging Temperature

5° to 45° C (41° to 113° F)
Operating Temperature

-10° to 45° C (14° to 113° F)
DJI Mic Receiver
Dimensions

47.44×32.21×17.35 mm
Wireless Mode

GFSK 1 Mbps and 2 Mbps
Operating Frequency

2400-2483.5 MHz
Battery Type

LiPo battery BHX211-320-3.85
Charging Temperature

5 to 45° C (41° to 113° F)
Operating Temperature

-10° to 45° C (14° to 113° F)
Charging Case
Dimensions

103.06×61.87×41.50 mm
Power Consumption

60 mW (without charging any other modules)
Charging 1 module (2500 mW)
Charging 2 modules (5100 mW)
Charging 3 modules (7900 mW)
Battery Type

Lipo battery 113248
Battery Capacity

2600 mAh
Charging Temperature

5 to 45° C
Operating Temperature

-10° to 45° C (14° to 113° F)
Operating Time

Fully charge three devices simultaneously up to two times.

Vi accepterar Visa/Mastercard/American Express* och Faktura
'Endast tillgängligt via Klarna och i butik.