Fördelar med att handla på DJI Stockholm
✔ Sveriges snabbaste och bästa support på drönare.
✔ Officiell DJI butik.
✔ Full garanti.
✔ Lagar om olyckan är framme.
✔ Alltid först i Sverige med nya modeller.
✔ Snabb leverans.

DJI Osmo Mobile 3 Combo
Stockholm:

Ej på Lager

Fjärrlager:

0
Hopfällbar och otroligt bekväm, Osmo Mobile 3 är den perfekta följeslagaren för fotografering med en smartphone. Styr denna 3-axliga gimbal med en enda hand, eller prova Gest Control. Förvandla till en professionell innehållsskapare med hjälp av DJI Mimos berättelseläge. Montera din telefon, bli kreativ och låt Osmo Mobile 3 förvandla din värld.
Produktinformation
Material
VANLIGA FRÅGOR OCH SVAR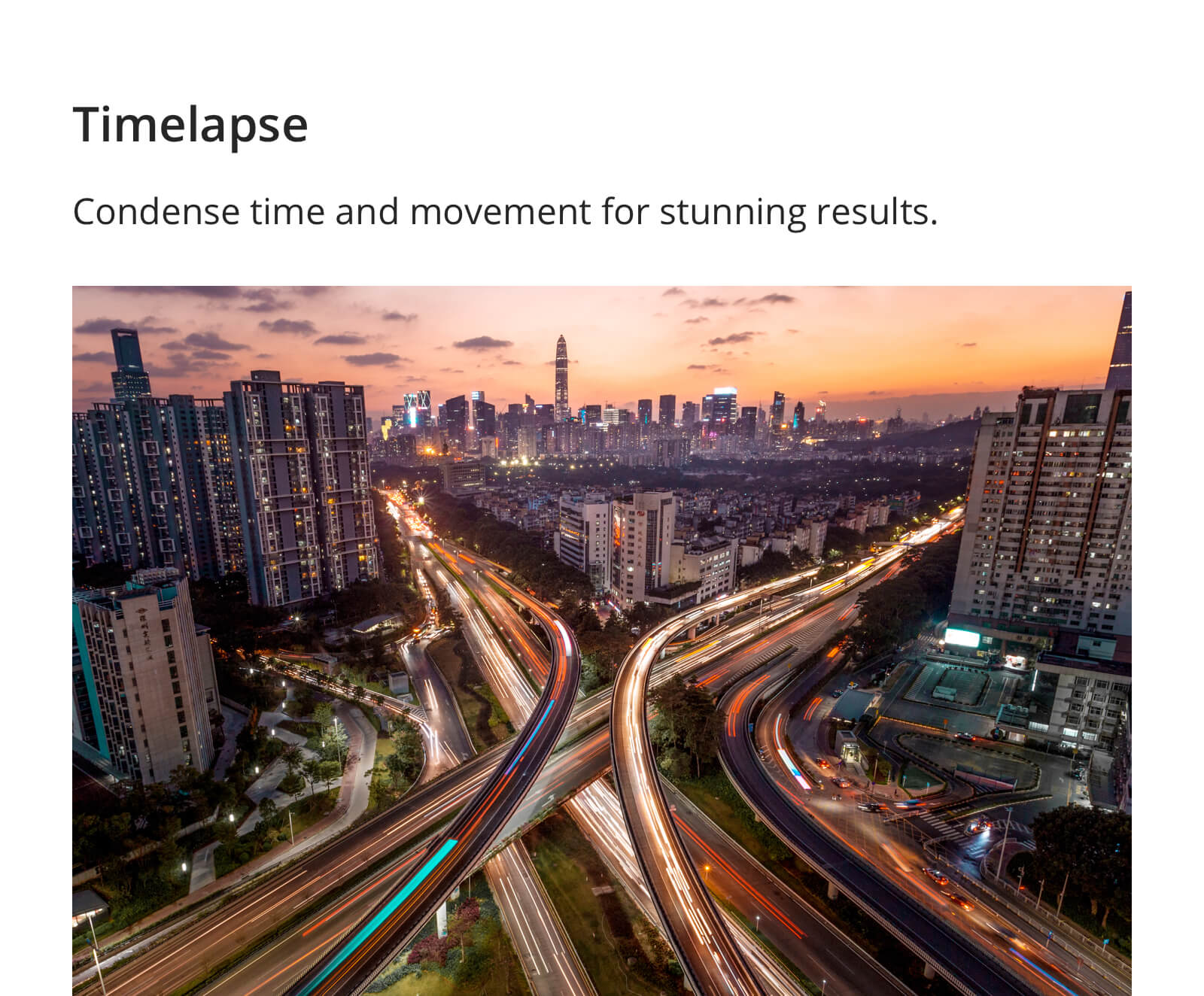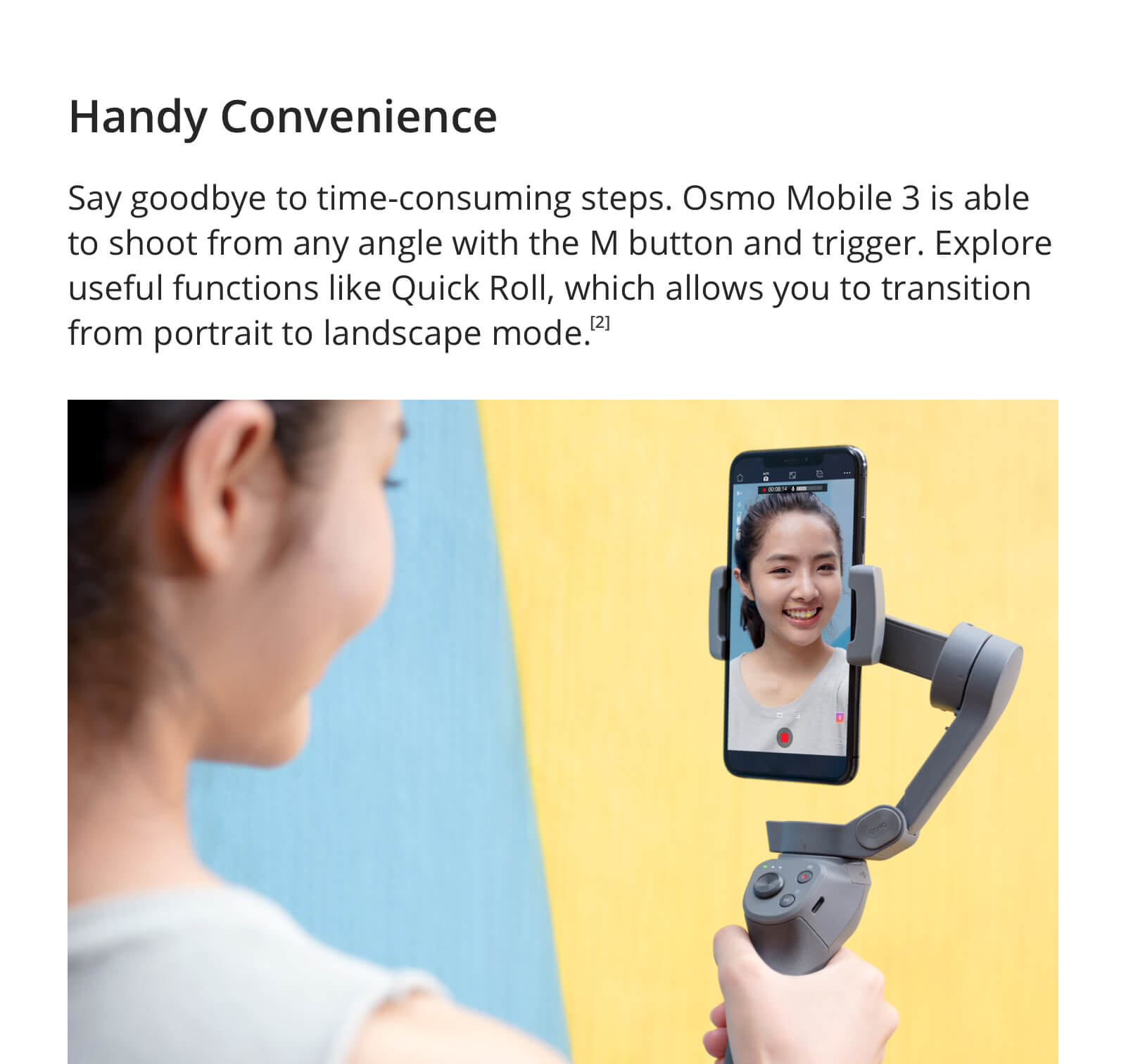 [1] Slow Motion is currently only supported by iOS devices.
[2] You can also transition between portrait and landscape mode by rotating the roll axis manually.
[3] Activate this function in settings. By default, if you press the M button once, you can quickly switch between taking a photo and recording a video.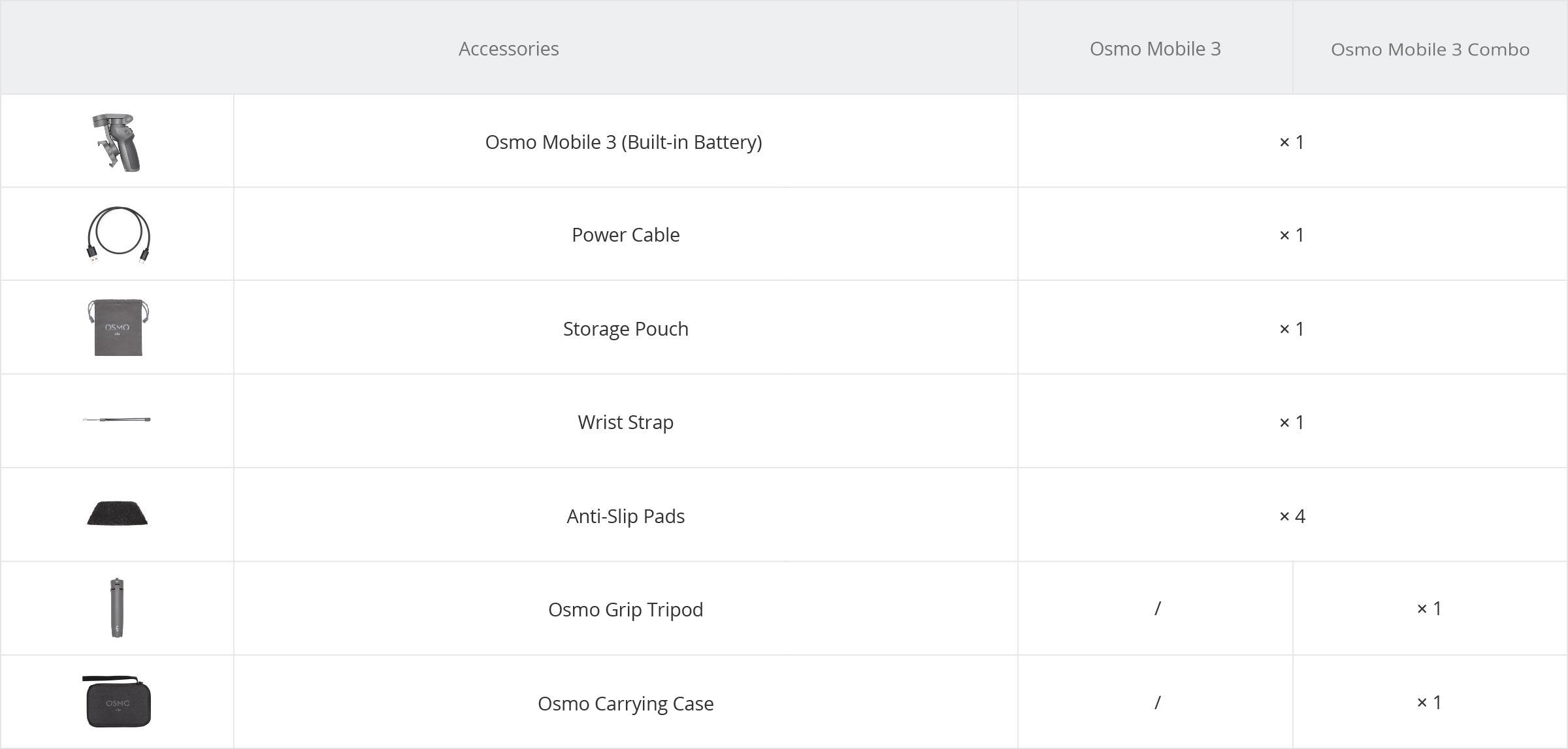 Är Osmo Mobile 3 kompatibel med alla telefoner?
Osmo Mobile 3 stöder smartphones som är 62-88mm breda och upp till 9,5mm tjocka. Detta sortiment omfattar de flesta tillgängliga mobiltelefoner. Observera att den faktiska kompatibiliteten kan påverkas av tillbehör som är anslutna till din telefon. Vissa formfaktorer, inklusive knappar på sidan, bör också beaktas.
Hur startar jag Osmo Mobile 3 för första gången?
Steg 1: Se först till att Osmo Mobile 3 är tillräckligt laddad genom att ansluta laddkabeln till Type-C-porten på höger sida om Osmo Mobile 3.
Steg 2: Montera din telefon på Osmo Mobile 3 och justera balansen. Följ stegen i handledningsvideoerna för att balansera telefonen.
Steg 3: Tryck och håll ned strömbrytaren för att slå på Osmo Mobile 3. Starta DJI Mimo-appen och välj Osmo Mobile 3. Följ appens instruktioner för att slutföra Bluetooth-anslutning, registrering och aktivering.
Behöver min smartphone uppfylla några hårdvarukrav när jag använder Osmo Mobile 3?
Osmo Mobile 3 använder Bluetooth Low Energy 5.0 och fungerar därför bättre med telefoner som har Bluetooth Low Energy 5.0 eller högre. Vi föreslår att du kontrollerar kompatibiliteten genom att gå igenom din telefons specifikationer.
Stöder Osmo Mobile 3 gestkontroll? Vilka gester stöds?
När du har startat Osmo Mobile 3 kan du gå till DJI Mimo-appen och aktivera gestkontrollfunktioner. Osmo Mobile 3 kan känna igen "handflatan" och "V" gester.
Hur använder jag ActiveTrack 3.0 med Osmo Mobile 3?
Det finns tre sätt att använda ActiveTrack:
1. Aktivera funktionen "One-Press ActiveTrack" och tryck sedan på avtryckaren för att spåra målet mitt i ramen automatiskt.
2. Välj och spåra målet manuellt i appgränssnittet.
3. Aktivera "Gest Control" -funktionen och använd en gest för att börja spåra, ta ett foto eller spela in en video.
Hur växlar jag mellan stående och liggande?
Slå på Osmo Mobile 3 och tryck på M-knappen två gånger för att växla mellan de två riktningarna. Du kan också övergå mellan stående och liggande läge genom att rotera rullaxeln manuellt.
Hur låser jag gimbalen?
Slå på Osmo Mobile 3 och håll sedan in avtryckaren för att låsa gimbalen.
Hur aktiverar jag Sport-läge?
Slå på Osmo Mobile 3, tryck på avtryckaren och tryck sedan igen och håll in för att växla till Sport-läge.
Hur centrerar jag Osmo Mobile 3?
Se till att gimbalen är påslagen och fungerar normalt, tryck sedan snabbt två gånger på avtryckaren för att återuppta gimbalen.
Hur kan jag växla mellan de främre och bakre kamerorna?
Det finns två sätt:
1) Växla mellan den främre och bakre kameran i DJI Mimo-appen;
2) Tryck snabbt på avtryckaren tre gånger.
Hur zoomar jag in och ut med Osmo Mobile 3 med zoomreglaget på vänster sida av handtaget?
Tryck zoomreglaget uppåt och nedåt för att zooma in eller ut. Observera att Osmo Mobile 3 endast stöder digital zoom, vilket påverkar bildkvaliteten.
Hur många panoramalägen stöder Osmo Mobile 3?
Osmo Mobile 3 stöder två panoramalägen: 180 ° och 3 × 3.
Stöder Osmo Mobile 3 Bluetooth?
Ja.
Vilka är fördelarna med Bluetooth-anslutning jämfört med Wi-Fi-anslutning?
Anslutning via Bluetooth är snabbare än att ansluta via Wi-Fi. Dessutom kommer enheter som använder Bluetooth att länka automatiskt när de har parats ihop. Anslutning via Bluetooth sparar också mer energi än att ansluta via Wi-Fi
Hur vet jag att Osmo Mobile 3 har anslutit sig via Bluetooth?
När den är ansluten via Bluetooth blir statusindikatorn grön medan en gul lampa indikerar frånkoppling. Du kan också kontrollera Bluetooth-anslutningen i DJI Mimo-appen.
Hur glömmer jag anslutna enheter?
1. Glöm anslutna enheter i Bluetooth-inställningarna på din mobiltelefon.
2. Tryck och håll in inspelningsknappen, utlösaren och M-knappen samtidigt i en sekund för att glömma den anslutna enheten.
Hur vet jag om firmwareuppdateringsstatus för Osmo Mobile 3?
När firmware uppdateras blinkar statusindikatorn rött och grönt. Om uppdateringen av firmware lyckas blir indikatorn grön. Om uppdateringen av firmware misslyckas blinkar indikatorn rött och grönt, och du får samtidigt meddelande i DJI Mimo-appen.
Har Osmo Mobile 3 en mobiltelefondetektor som Osmo Mobile?
Nej.
Kan jag ansluta en annan gimbal eller kamera till Osmo Mobile 3?
Nej. Osmo Mobile 3 är inte utbytbar med andra gimbals och kameror.
Funktioner:
1. Väl placerade knappar och intuitiva funktioner gör Osmo Mobile 3 bekvämt att använda med en enda hand, vilket ger mer mångsidighet och rörelsefrihet.
2. Mer intelligenta fotograferingslägen, som sportläge och gestkontroll. ActiveTrack 3.0 ger en mjukare spårningsupplevelse.
3. Kan användas med DJI Mimo.
Utseende:
1. Osmo Mobile 3s hopfällbara design gör den mindre och lätt att ta med var som helst.
2. Tack vare sin intelligenta design är Osmo Mobile 3 bekväm att hålla även under långa perioder.
3. Osmo Mobile 3 är kompatibel med fler enheter och kan användas för att ladda dina mobiltelefoner.


*Vi delar samma lager både på hemsidan och i butiken

Vi accepterar Visa/Mastercard/American Express* och Faktura
'Endast tillgängligt via Klarna och i butik.