Fördelar med att handla på DJI Stockholm
✔ Sveriges snabbaste och bästa support på drönare.
✔ Officiell DJI butik.
✔ Full garanti.
✔ Lagar om olyckan är framme.
✔ Alltid först i Sverige med nya modeller.
✔ Snabb leverans.

PolarPro Mavic Air 2 - Cinema Series - Vivid Collection
Du sparar

200,- SEK

(28%)
Butik:

På lager

Webblager:

0
Passar endast Mavic Air 2

Inkluderar ND8/PL, ND16/PL, ND32/PL

P

olarisationsindikator laseretsad på varje ND/PL-filter

CinemaSeries ™ -glas i professionell kvalitet

Aerospace Aluminum Frame
Adding a polarizer to your camera can completely change its capabilities by removing reflections, cutting glare, and increasing color saturation. We applied polarization to our industry-leading ND filters to produce an ND/PL in a single glass element. These filters feature a lightweight aerospace aluminum frame to ensure gimbal optimization. With polarization reference indicators built-in, these filters provide swift and smooth adjustments to achieve your desired light polarization with your Mavic Air 2.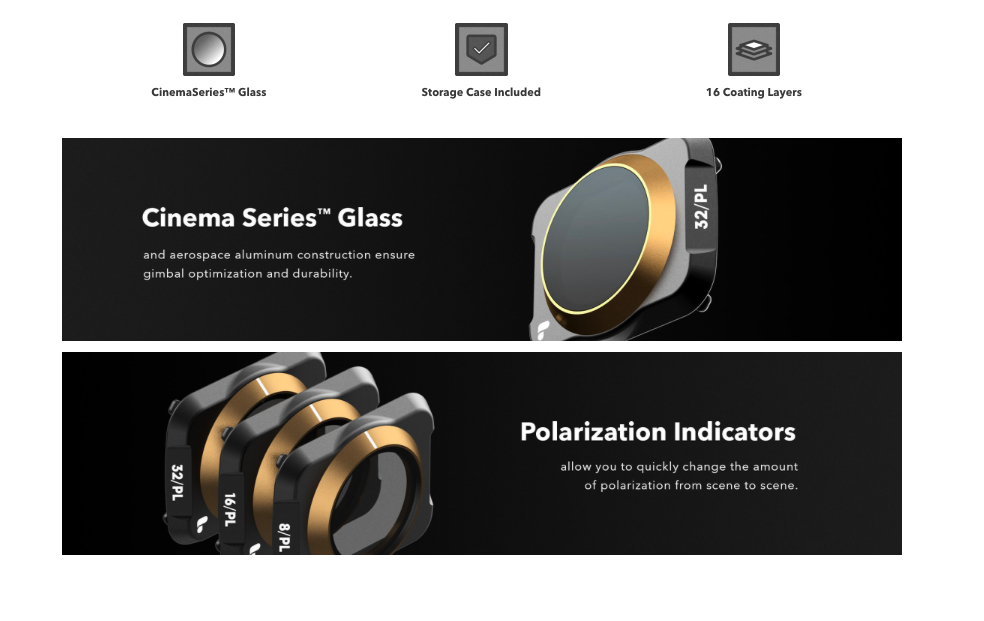 Vi accepterar Visa/Mastercard/American Express* och Faktura
'Endast tillgängligt via Klarna och i butik.