Fördelar med att handla på DJI Stockholm
✔ Sveriges snabbaste och bästa support på drönare.
✔ Officiell DJI butik.
✔ Full garanti.
✔ Lagar om olyckan är framme.
✔ Alltid först i Sverige med nya modeller.
✔ Snabb leverans.

DJI Zenmuse XT S
Stockholm:

Ej på Lager

Fjärrlager:

0
Fånga detaljerade termiska bilder med Zenmuse XT S. Den höga termiska känsligheten och upplösningen gör det möjligt för användare inom branscher som brandbekämpning, sökning och räddning och infrastrukturinspektion att se bortom sin vision och snabbt fatta kritiska beslut baserade på exakta insikter.


Zoom
1x, 2x, 4x Optical Zoom
Produktinformation
Material
VANLIGA FRÅGOR OCH SVAR
Professionell termisk bildlösning
Det väderbeständiga Zenmuse XT S är ditt nya verktyg för att fånga högupplösta termiska bilder i både JPEG (640 × 512) och R-JPEG (640 × 512).
Känslighet (NETD) ≤40 mK
Bildhastighet 25 Hz
Pixel Pitch 17 μm
Ingress Protection Rating IP44 NIVÅ Spotmätare
Tryck på en punkt för att få en realtidsavläsning av yttemperaturen så att du kan övervaka webbplatsen eller annan utrustning noggrant. Areamätning
Välj ett område för att se de lägsta, högsta och medeltemperaturerna.
Intelligenta funktioner
Tempalarm
Få snabbmeddelanden i DJI Pilot när objekttemperaturer överskrider dina förinställda varningsvärden.
Digital zoom
Fånga detaljer från ett säkert avstånd med 2x och 4x digital zoom medan du håller situationen överblick.
Isotermer
Visualisera ett specifikt temperaturband för att hitta det som är viktigt. Välj mellan olika lägen, inklusive Sök personer, Sök eld eller Anpassad för att identifiera målämnet snabbt och exakt.
Färgpaletter
Justera färgerna som tillämpas på termodata baserat på behoven i specifika scenarier.
Vinstlägen
Justera förstärkningslägen för att ändra det upptagna temperaturområdet: High Gain Mode täcker ett mindre temperaturområde men är mer känsligt för temperaturskillnader; Low Gain Mode täcker ett bredare temperaturområde.
R-JPEG-bilder
Bilder som tagits av XT S är i R-JPEG-format med inbäddad temperaturinformation. Genom att importera dessa bilder till DJI Thermal Analysis Tool kan du mäta temperatur och justera parametrar som Emissivity och Reflected Temp.
Användningsändamål

DJI PILOT
DJI Pilot är en robust app för flygkontroll och har utvecklats specifikt för företagsanvändare för att släppa loss kraften i deras DJI-drönare. Med utvecklingen speciellt gjord för XT S kan du njuta av en optimerad flyg- och flygbildbehandlingsprocess.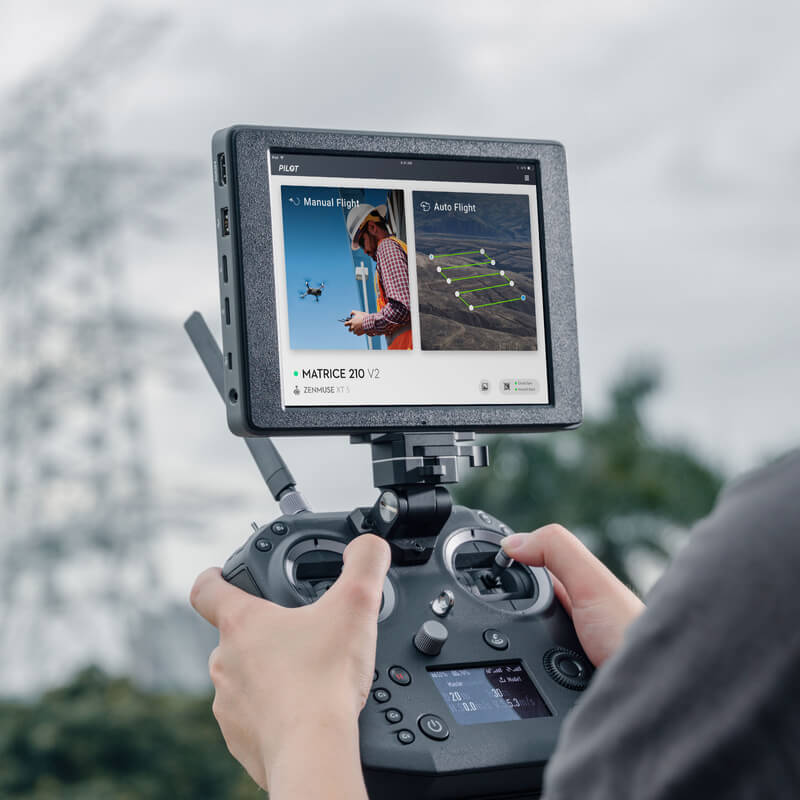 Tillämpningar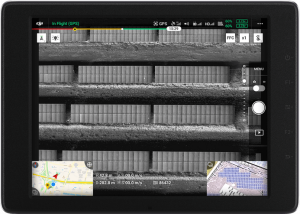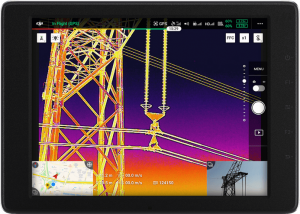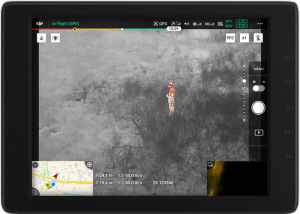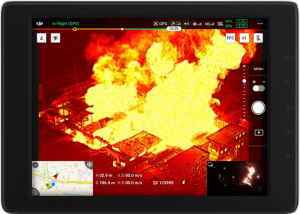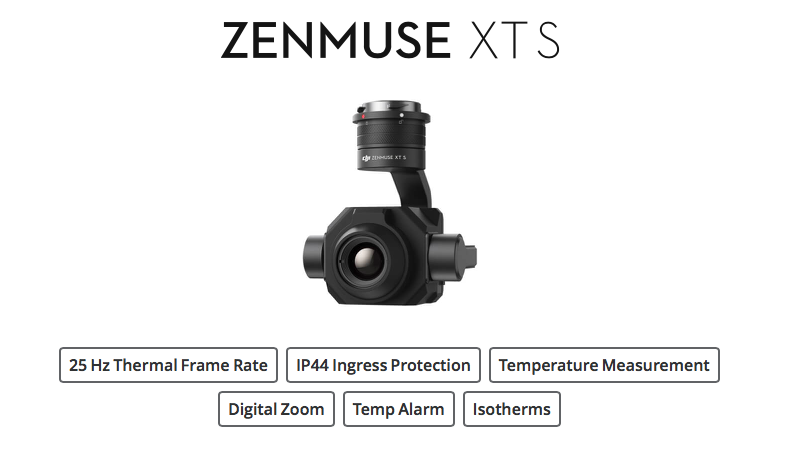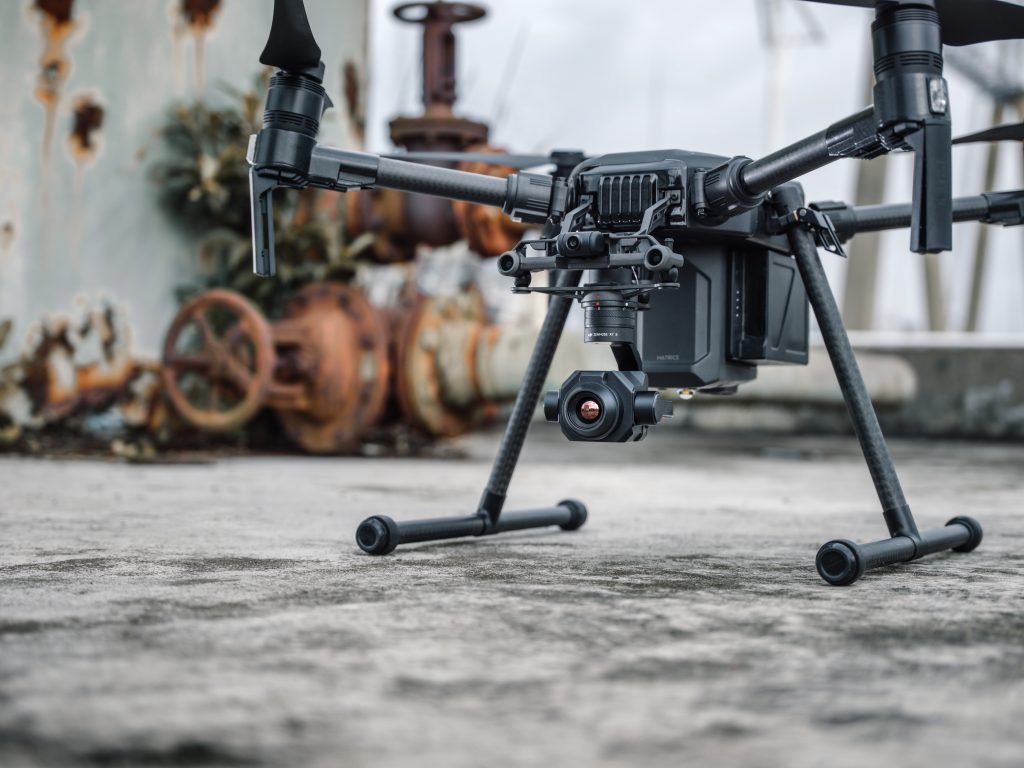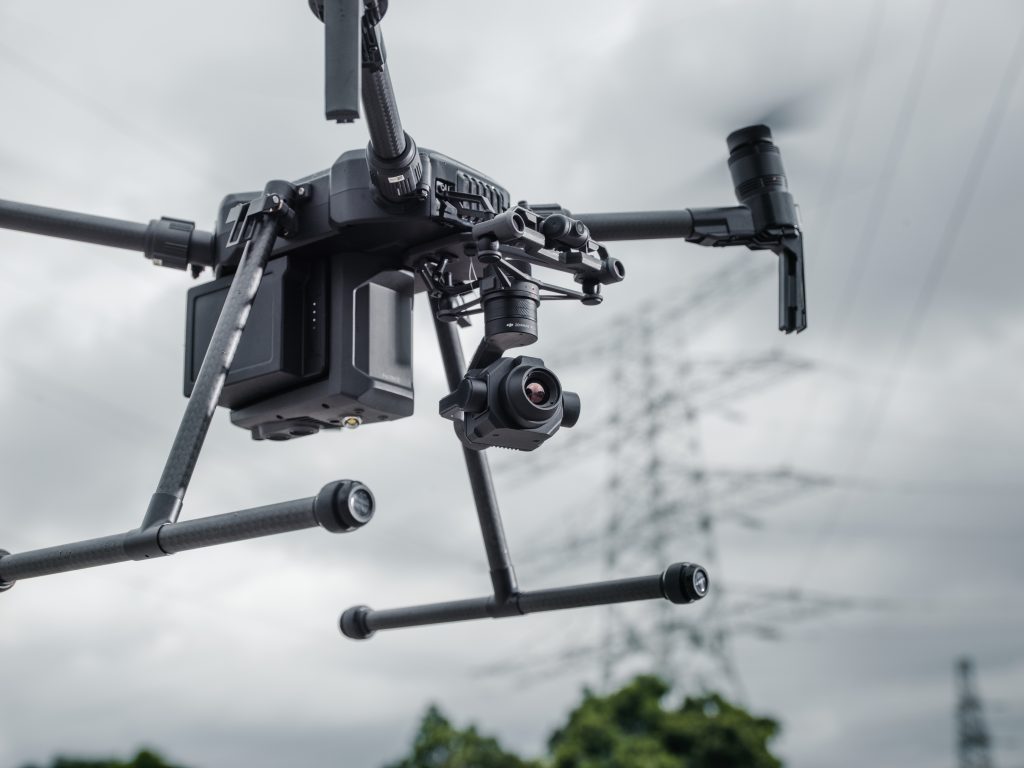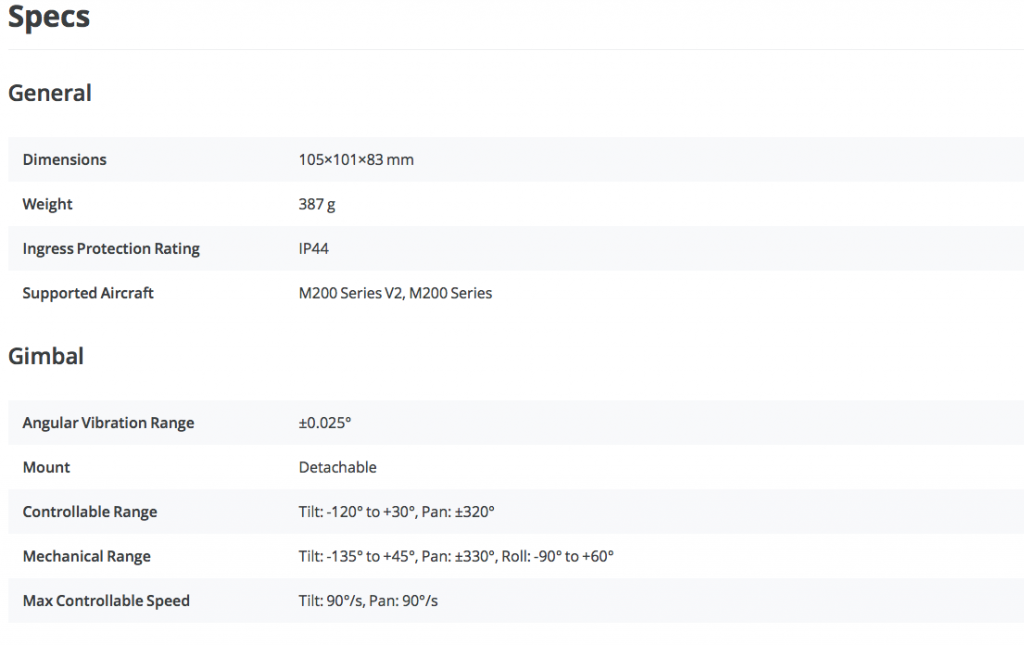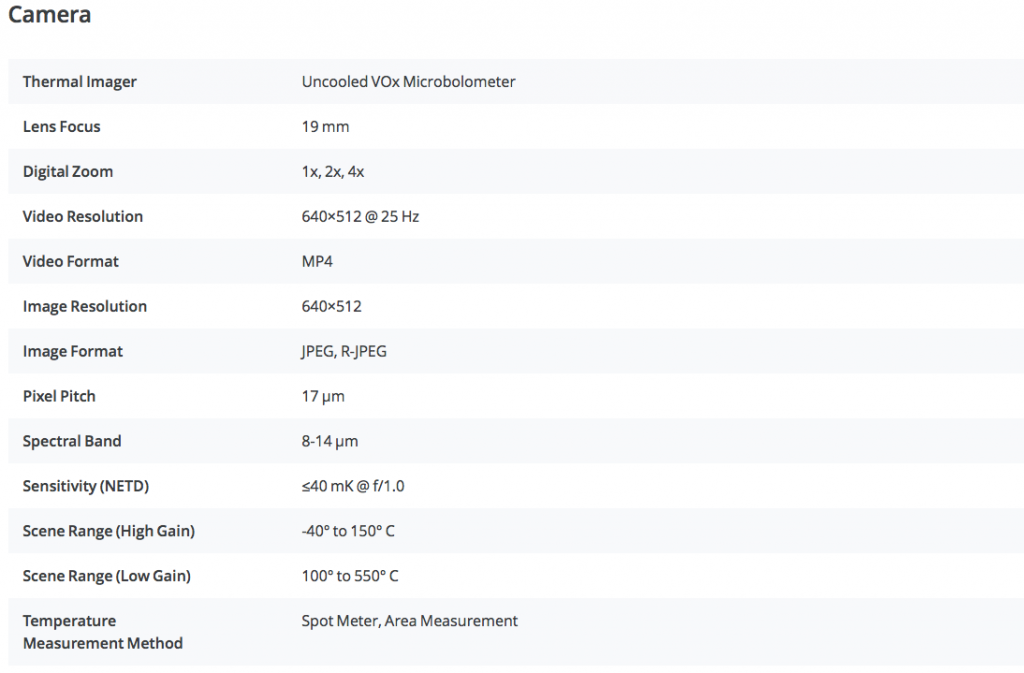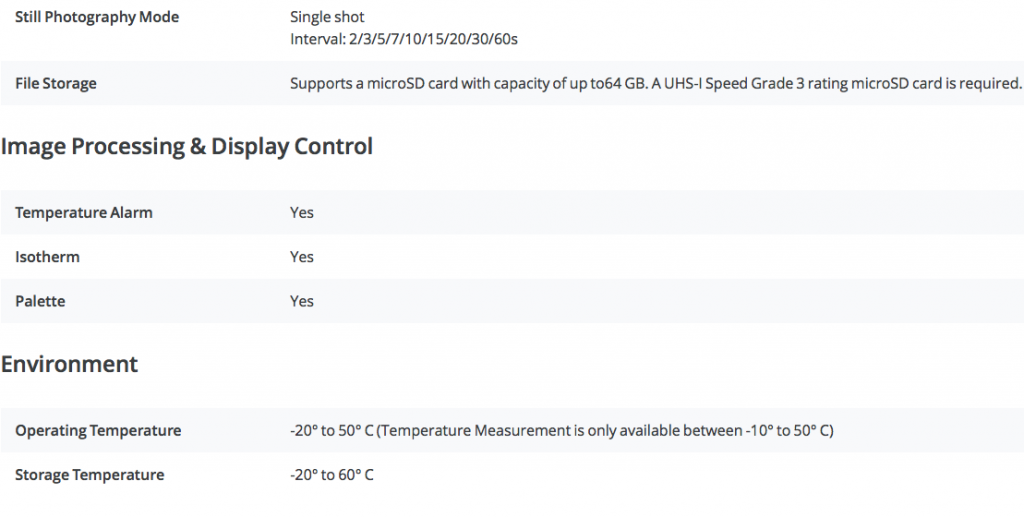 How many models does the Zenmuse XT S have?
What is the protection rating of the Zenmuse XT S?
• Before mounting the gimbal, please ensure the mounting ports and the surface of the gimbal are dry.
• Before use, ensure the gimbal is securely mounted onto the aircraft, and the SD card protection cover is clean, free of any foreign objects, and is securely closed.
• Clean the surface of the aircraft with a dry cloth before opening the SD card cover.
What is the resolution of the photos and videos taken by the Zenmuse XT S?
Which video format does the Zenmuse XT S support?
Which video standard does the Zenmuse XT S use?
Does the Zenmuse XT S support switching between video standards?
Does the Zenmuse XT S support digital zoom?
Does the Zenmuse XT S support burst shooting?
Does the Zenmuse XT S support Intervals?
Can the Zenmuse XT S take photos while recording?
What is the capacity of the microSD card that comes with the Zenmuse XT S?
What is the maximum capacity of the microSD card that the Zenmuse XT S supports?
What is the optimal distance range for the Zenmuse XT S to capture images?
What drones can the Zenmuse XT S be used with?
Where can the Zenmuse XT S be mounted on the Matrice 200 Series/Matrice 200 Series V2?
Which gimbal connector does the Zenmuse XT S use?
What app do I use to control the Zenmuse XT S?
What software can be used to process the photos in R-JPEG format taken by the Zenmuse XT S?
What should be paid attention to when using the Zenmuse XT S?
2. Do not place the camera under direct sunlight, in places with poor ventilation, or near heaters.
3. Do not power on or off the camera too frequently, please wait for at least 30 seconds before restarting the camera, or it may affect the service life of camera chips.
4. Do not hot swap the microSD card during use.
5. Do not touch the camera lens or scratch it with hard objects, or it may affect the image quality, or result in blurry images.
6. Please use a soft and dry cloth to clean the surface of the camera lens. Do not use alkaline detergents.
What is the temperature detection accuracy of the Zenmuse XT S? And what factors will affect the temperature detection accuracy?
(1) Reflectivity of objects – shiny metals with high reflectivity will reflect more of the background radiation and result in lower accuracy, whereas objects with matte surfaces will produce a higher accuracy.
(2) Temperature of background radiation – a sunny day without clouds will have less of an effect on the accuracy than a cloudy day.
(3) Air temperature and humidity – the temperature and humidity have been calibrated during production, but some temperature measurement errors are inevitable. Extreme temperatures or humidity levels will affect the measurement accuracy.
(4) Distance between the camera and the object – the default distance used in calibration is 5 m, and the temperature measurement is most accurate at this distance. As the distance increases or decreases, the accuracy decreases.
(5) Emissivity of objects – the emissivity of the object will affect the temperature measurement accuracy. Generally, accuracy increases proportionally to emissivity. Emissivity is affected by factors such as the material, the roughness or the degree of oxidation of the object's surface.
How do I upgrade the Zenmuse XT S firmware?
1. Visit official DJI website and enter the Downloads section of the Zenmuse XT S product page.
2. Download the latest firmware package.
3. Store the downloaded firmware package to a microSD card.
4. Insert the microSD card into the microSD card slot on the Zenmuse XT S.
5. Power on the aircraft, and the gimbal will start to perform a self-check, then automatically upgrade the firmware.
6. Please restart all devices after the upgrade completes.Gimbal upgrade status description:
4 short beeps …new firmware detected, ready to upgrade.
1 long beep …upgrading firmware, do not stop the update.
1 long beep followed by 2 short beeps… The firmware update was successful.
Continuous long beep… The firmware update failed, please try to update again. Contact DJI support for help if needed.Notes:
• Please only store one version of firmware in microSD card. Multiple versions of firmwares stored in the microSD card will cause upgrade failure.
• Do not power off the aircraft or remove the Zenmuse XT S from the aircraft during the upgrade, or it may damage the gimbal.

Vi accepterar Visa/Mastercard/American Express* och Faktura
'Endast tillgängligt via Klarna och i butik.